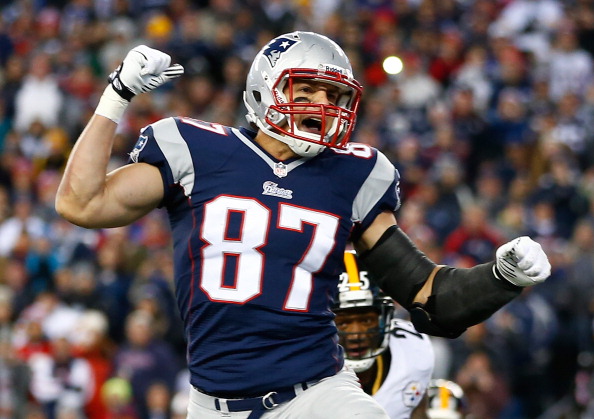 With every generation, a new work of literature sets new standards for writers by obliterating everything that came before it. This generation's opus has finally arrived, and it's all about that Gronk. Written by erotica novelist Lacey Noonan, A Gronking to Remember combines the mushiness of Nicholas Sparks, the quality of Fifty Shades of Grey, and the long, hard drives of the NFL.
Not only does this book look amazing(ly awful), but it's the first in a much larger, Magnum-sized series. According to Amazon:
Leigh has a serious problem. And it's driving a "spike" between her and her husband Dan.

When Leigh wanders into the room where her husband and his friends are watching a football game, her life changes forever, because at that exact moment, NFL's one-man wrecking ball, Rob Gronkowski of the New England Patriots, scores a touchdown and does his patented "Gronk Spike" — his notorious monster smashing of a football. When the ball shoots into the stratosphere, Leigh's heart goes apitter-patter and she becomes seriously turned on.

Now normally-sheepish Leigh can't stop thinking about it. She'd never given a second thought to football, but now the primal power of the Gronk Spike, and this raw monster of a man, Rob Gronkowski, is all that she wants, and she'll stop at nothing until the romance of a lifetime is hers!
One Twitter user demanded the Pulitzer Prize committee immediately consider Noonan, but I think she deserves more. Start hedging your bets now for next year's Nobel Prize in Literature, because Gronk is about to spike the Swedish Academy's hearts, minds, and loins.