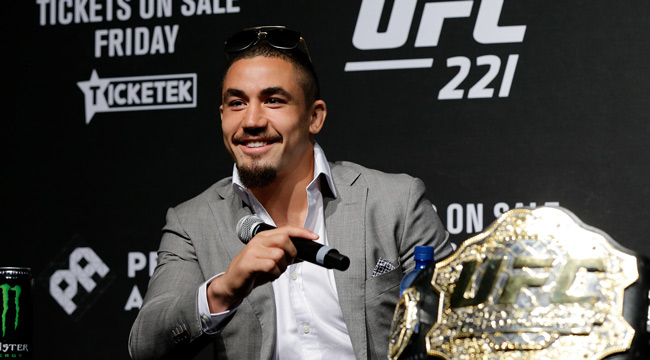 There's a saying that goes "The best-laid plans of mice and men often go awry," except for the most part, people just say "The best-laid plans of mice and men…" because we take the second part for granted. The same goes if you happened to say "The best-laid plans of the UFC…" because it's a similar situation: things always seem to go awry for them. Last year, 21 main events or co-main events had to be adjusted, postponed or canceled entirely. Oftentimes the day or day before the event.
That luck continues into 2018 with middleweight champ Robert Whittaker's removal from UFC 221 in Perth, Australia. The whole event was built up around the Australian Whittaker defending his belt in his home country. Now the new main event is another interim title affair between Yoel Romero and Luke Rockhold, which dovetails with a weak undercard to create another UFC PPV that will struggle to move units.
"I would like to apologize to all my supporters and fans of MMA for not being able to put on the show you deserve," Whittaker wrote in a statement on his removal. "I've been ruled medically unable to compete and wont be able to defend on home soil."
Just to clarify, Whittaker suffered an undisclosed injury of some sort.
This latest kick to the collective junk of MMA highlights a few problems we keep seeing with the UFC lately. There's the use of interim titles for no other reason than to maintain the facade of there being a title fight at the top of a card. There's the undercard with few memorable match-ups, just the reality of a world where the UFC has 39 events a year to fill. And there's the continued unreliability fans need to accept as to whether the fight they're paying to see will fall apart or not after they've bought tickets.
It's all just a reminder that being an UFC fan can often be an exercise in frustration. But we soldier on in the hopes that this sacrifice to the MMA gods will allow other main events later this year to go on without a hitch.