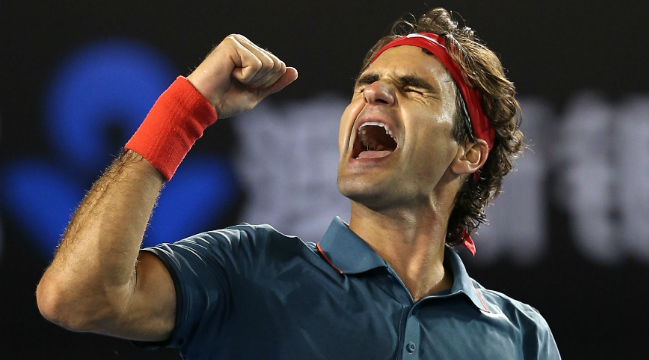 How's your Friday afternoon going? Good? I'm glad! Not so good? Well, how about you let this video of a boy band composed of a trio of tennis players coming together and forming a boy band try to cheer you up.
Roger Federer, Grigor Dimitrov, and Tommy Haas have created a boy band called the Backhand Boys. Considering that sounds like either a tennis boy band or a group of people who exclusively offer backhanded compliments to their friends, that's a pretty good name. The three of them came together and sang Chicago's "Hard To Say I'm Sorry" with Grammy-winning producer David Foster on the piano. Novak Djokovic also made a cameo in the video. It was pretty swell.
This was actually their second attempt at the song. Their first attempt occurred earlier this year and was not as, um, well-edited. Federer, Dimitrov, Haas, and Foster hung out together and performed a more raw version of the song. If you were surprised by how crisp the vocals were on the above version, you may not be surprised to learn that the vocals weren't as refined the first time they sang.
Admittedly, this could be way, way worse. But if you have that one relative who hates rap music because of auto-tune, please show them these two videos as proof that auto-tune can actually serve a very important purpose: it makes Roger Federer's boy band composed of tennis players sound better when they sing a song by Chicago.