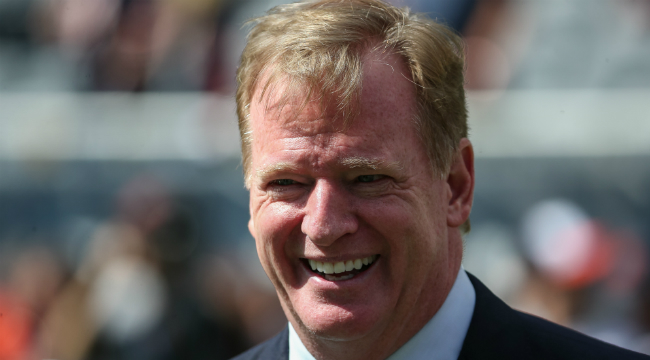 Despite Jerry Jones' best efforts and threats to sue the league and the six owners on the NFL's compensation committee, contract extension talks for commissioner Roger Goodell continue.
While Jones is threatening to take his crusade to keep a Goodell extension from materializing to the courts, the compensation committee reportedly plans on holding a conference call on Monday to discuss Goodell's extension (a call Jones will not be a part of). According to ESPN's Adam Schefter, the committee will be discussing the most recent counterproposal from Goodell, which is asking for a ton.
The committee will address Goodell's salary and compensation package. The last written counterproposal from Goodell, which was around the first of August, was seeking about $50 million per year, as well as the lifetime use of a private jet and lifetime health insurance for his family, according to a source familiar with the negotiations.
The NFL denied the report, but ESPN's Chris Mortensen claims that's an issue of semantics, as Goodell's proposal only asks for $49.5 million.
In any case, if that request seems absurd to you, you're not alone. Schefter cites a number of NFL owners who spoke to him anonymously about their frustrations with his proposed salary request. One told Schefter there are a number of owners that don't make $40 million per year in their salaries from their NFL franchises, while another referred to his request as "unseemly" and "offensive." One even suggested they make a rule where Goodell can't make more than the league's highest paid player.
As for where this stands among major CEO's, while not exactly apples to apples, ESPN's Darren Rovell pointed out how much more Goodell is asking for than what Nike CEO Mark Parker pulls in each year.

Beyond just the absurd salary request, owners outside of just Jones have issues with the way Goodell has handled issues facing the NFL and how it's distracted from talk about the games.
"The problem is, no one is talking about games anymore," one owner told ESPN this weekend. "It's about concussions, Jones vs Goodell, Zeke, the anthem. No one is talking about football. It's just killing the game."
That anonymous owner isn't wrong. The major headlines in the NFL often don't deal with things happening on the field and owners are starting to be fed up with the lack of damage control from the commissioner. How the NFL proceeds with Goodell, and whether his latest request has pushed them too far, will certainly make for an interesting storyline moving forward for however long it drags out — which, ironically, will be another off field NFL story that dominates headlines.