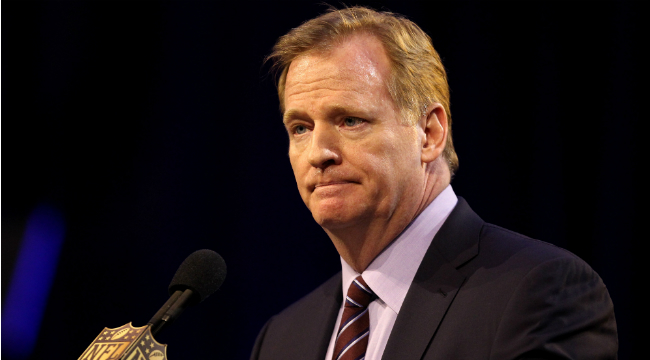 The most powerful man in the NFL isn't going anywhere. Despite the best efforts of Cowboys owner Jerry Jones, NFL commissioner Roger Goodell has reportedly agreed to a new contract with the league. Goodell has served as the league's commissioner since taking over for Paul Tagliabue in 2006, and while there has been plenty of controversy during his tenure, the league's owners have decided to keep him around.
The news of Goodell agreeing to a new deal was broken by Mike Florio of Pro Football Talk.
The news was confirmed by ESPN.

Florio provided some more details into the deal, saying that Jones had "four or five other owners on his side, at most" in his attempt to keep Goodell's extension from getting signed.
The memorandum to all owners explains that a "binding contract extension has been signed by the Commissioner and by Arthur Blank, on behalf of the League entities." The memo also cites the existence of a "nearly unanimous consensus" among the owners in favor of finalizing the extension now.
The terms of Goodell's new contract are not public at this point, but we do know that reports indicated the commissioner was looking to make $50 million a year with lifetime use of a private jet and lifetime healthcare for his family.

UPDATE: According to Ian Rapoport of the NFL Network, Goodell's deal has been signed.
We also have a few contract details, thanks to Ken Belson of the New York Times who brings word of how much money Goodell will make and what he needs to do to get paid.
Unfortunately, there is no word on whether he will receive lifetime use of a private jet, so Goodell will just have to deal with being paid $200 million for now.