Ron Darling played 13 seasons as a major league pitcher, so he knows an arms race when he sees one. With home runs leaving ballparks all over the majors this summer, baseball saw a focus on pitching at this year's trade deadline, something Darling is no stranger to.
As an analyst covering the New York Mets, he's seen a team struggle with injuries and further distance themselves from the club that made a World Series appearance two seasons ago. Meanwhile, his work as an MLB on TBS analyst has him preparing for a long postseason with the network as it covers the National League through the Wild Card and League Championship Series.
Darling spoke to Uproxx over the phone hours after the MLB trade deadline wrapped up on Tuesday. He picked his favorite transactions, and spoke about the mood in a clubhouse in the days that follow the trade deadline.
Darling's TBS duties continue on Sunday when he joins Don Orsillo in calling the first-place Washington Nationals visiting the Chicago Cubs at 2 p.m. at Wrigley Field. But before the matinee action, let's set the scene for the dog days of summer and the excitement of fall by wrapping up the trade deadline.

UPROXX: The Major League Baseball trade deadline has come and gone. Did anything that went down surprise you this season?
Ron Darling: Well, if I think about it thematically, I think the two wild card spots have made July 31 an event for everyone. Every year it seems to get more and more heat and more teams try to deal.
Whether they're contenders or pretenders, the ones who know they're not going anywhere identify that and they're trying to get prospects back. I think that, to me, is the most important thing. You go from these great big names — Yu Darvish and other people — the key is that teams are just wanting to do business. And I think that's a great thing for us in the media.
There have been some quieter deadlines in the past, but obviously this year there were some big names on the move. With pitching, was the desire to go out and acquire a big arm something that seemed more magnified his year?
Well what I think has happened is with the proliferation of the home run ball — I mean, what did we have last year? 111 guys had 20 home runs or more. (Hitters are) probably on a more significant pace this year. So every team seems to have enough offense, or have offense.
Last year the two biggest clubs that made the two biggest moves: the Cubs got (Aroldis) Chapman and the Indians got (Andrew) Miller and they're the two teams that got to the World Series. It could have gone either way, but it went the Cubs' way.
So I think the teams are identifying this year that there wasn't a Chapman out there. There was Addison Reed and Tony Watson. Justin Wilson. A lot of really talented pitchers, but certainly not in the class of Chapman and Miller. So now the next level after that is starting pitching. So the way I look at it now is that relief pitchers are the No. 1 go-to. Really good relief pitchers. I know every team has the eight pitchers in the bullpen but there's only about two or three you want to use. The real good bullpen guy at the next level is the ace, which is really hard to get. Obviously with Darvish, he pitches that way. And then the third is the hitters, because every team has tons and tons of guys that have lots of power.
Do you think GMs are mainly focusing on pitching as a reaction to the rise in home runs this year?
I think that's part of it. You look at the Mets, the team I cover, they have Jay Bruce. His numbers are better than they were last year at this time. And there were a lot of teams that wanted him. And there were less teams that wanted him this year with the same or better numbers. So I find that interesting, that changes have swung so much here.

You mentioned Addison Reed, I thought it was a quiet but interesting move that the Red Sox made. The big name pitching acquisition in the AL East is the Yankees acquiring Sonny Gray, but will Reed make a difference in Boston?
I think Addison has filled a lot of roles for the Mets. Last year if you look at his numbers, he almost had a perfect season, he's one of the big reasons (Mets closer Jeurys) Familia got the Mets save record.
This year he's played a lot of different roles, so I think he does a couple things for you if you're Boston. He gives you that real good setup man. He gives you a guy that throws strikes. You're not going to worry about him; the enormity of the event is not going to diminish how he pitches.
And I think even, and this is way off, but he gives them insurance. Protection. If something were to happen to Kimbrel, they would have have someone in that bullpen to close some games. He's just one of those — he's not on the same level of Chapman this year, but he's that 1-A type of receiver who can save games as well as set up games.
With the Red Sox, obviously Chris Sale is having a remarkable season. But the pitcher everyone keeps talking about up in Boston is David Price. It's a strange situation, with a broadcaster traveling with the team getting called out by an active pitcher for the way he's covering the team. Have you ever dealt with anything like that, either as a broadcaster or a player?
I've never ever had an issue when I was a player. Our home TV guy was Tim McCarver, who definitely had strong, strong opinions. And if I ever had a problem with Tim — which I never did — I would have pulled him aside and said, "Hey, listen this is what I was trying to do and you criticized me … " I would try to figure that out as an adult.
As a broadcaster, I have not had that issue. I don't know whether the players don't want to confront a TV guy because of my age — I'm a lot older than the players. Or, hopefully, when I have to criticize a player, I try to put it in a way that they listen. 'That's an interesting way to do it. That's probably not the way you should do it … "
I always try to make sure I humanize it. mistakes in baseball, they're not original. They happened in the 30s and the 40s even though people will tell you that the players were perfect, they weren't. They weren't perfect in my day, either. So I try to remember I used to play. It was my job once. But even more importantly, I can't play anymore. These guys are the players today and just try to put myself in their position.
So I haven't had it yet, but we're also living in a different world. Certain things choose to be blown up. And this one has blown up as big as anyone I've ever seen. I'm sure that it has happened, but it hasn't taken on the life that this one has.

It kind of seems like an inevitable problem to have. There are so many media people that are technically journalists but are working for the team, or working for an affiliate. Do you think it's partially a problem with perception from a player's standpoint? Is that person there to root for us and support us or are they there to be critical and to be impartial?
I think that's a great question. I definitely lean on the impartial side of the broadcasting business. I don't think you can be truthful if you're always a homer. But that said, whatever you choose to do, whatever your style is, you should go with it. You're (broadcasting) 25 hours a week. If you're not true to who you are, you're going to make mistakes.
So I think it's inevitable, because you have a lot of different styles of people that talk about the game now. You've got in Vin Scully, who just retired, who had this beautiful way of talking about the game. Almost like a poet.
But then you also have other people on networks who don't do games all the time who are trying to find their way by being a little louder about their opinions about the game. So what happens, I think, is for an athlete — and I could be wrong about this but I don't think I am — is that everybody gets kind of lumped in together. So when you hear a critical comment, you say, "Boy, you know, he's no different than someone else who talks about this very critically," or whatever. So I think all of the opposition is lumped in by the athlete and because there's so much noise — and maybe it's white noise after a while — but I'm sure at some point they just get sick of it.
I'm trying to think back 30 years ago, I might have been the same. So I can understand.
You've been around clubhouses a long time and that includes during trade deadline days. Some deals can still happen with waivers, but is there a sense of relief or renewed focus for a team after it passes and players know where they're going to be for the last few months of the season?
I think there's an initial kind of feeling, positive or negative. If you're a team whose front office went out and got you a lot of help, there's an initial week of "Hey, they believe in us; we just got some great players. We really have a chance to win this whole thing." If you're a team that's on the bubble, you're not sure if you're a contender or pretender, and your team trades one of your guys or doesn't do anything, then there's also a week of kind of hesitance. That, "Boy, we never get backed by our team. We played really hard the first half, the second half was kind of poor, but they didn't give us help for the run."
So I think there's an initial feeling but after that it wears down, it wears off because it's the dog days of August, you're playing every day, and after that it really doesn't matter that Sonny Gray plays for the New York Yankees. What matters is that Sonny Gray wins eight of his 12 starts down the stretch.
I'm sure (in 1998) when the Astros got Randy Johnson and he won, what 10 of his last 11 starts. That's a person you got that, when he plays, he gives you such a boost. But it can work the other way, where you get a gun for hire, whether it's more pitching or more hitting, and that person has not performed well, it ends up really bringing the team down. The initial week there's a lot of optimism or pessimism depending on what happens. But after that it's about just playing baseball.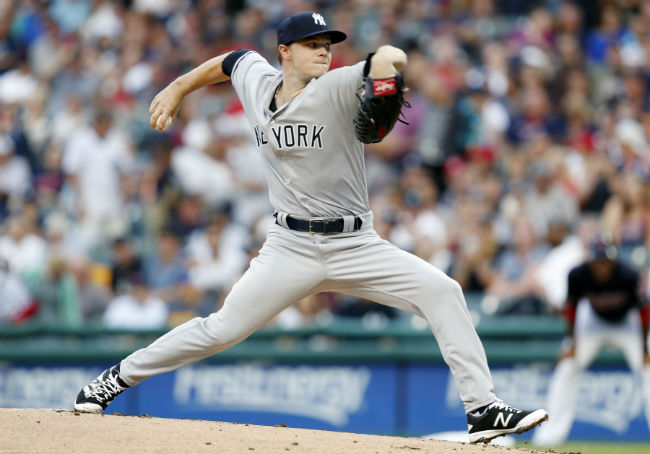 So which team gets that Johnson-like bump in the last month or two of the season?
Well, I think the Yankees got a pretty big bump. The Dodgers are, what, 40-something games over .500? They're going to win the division no matter what now. I think the Red Sox got a nice bump with Addison Reed and also the knowledge that they have a lot of players that haven to performed like they did last year. If they catch fire, they'll be fine.
But we're talking about a Yankees team that last year when they traded Chapman and Miller, most people said, "Well, the Yankees will take some years before they compete again." And they've gone about in a year from a team that sold a lot of their great players to a team that's contending. They've done an awesome job, and to change it that quickly I think says a lot about the intelligence of (Yankees general manager) Brian Cashman.
So I think a lot of teams really did get good pieces, but I don't know if anyone added more pieces than the Yankees, especially in the calendar year. They're a team that's gone from contending maybe three or four years down the road to contending right now.
With that in mind, is there a team that isn't currently contending that's done a good job at the deadline to put themselves in a similar position next season and in the future?
Two teams that haven't done very well this year — although one has done better this year than many figured — are teams that are just loaded up with young talent. That's the Atlanta Braves and the Chicago White Sox. I think that what has happened with the Astros and the Cubs where they had 100-loss seasons and had to be patient with some of their young players — if that is successful, it's going to be copied.
And that is what the Braves and the White Sox are doing. Though I think the Braves, I think, have played quite well. (Braves pitcher Freddie) Freeman was out for a long period of time, but I think they've played quite well; the White Sox not as well. With the way the teams have gone now, you could really see teams really contending, and not in that 3-4-5 year stretch, in a two- or three-year stretch very quickly.
Teams are doing a really nice job of saying, "Hey, it's not our time right now. We've seen what's happened to other teams like us." And they've put themselves in a better place.
Is there anything left on the broadcast schedule for you that you're looking forward to?
The most important thing for me is that I'm lucky enough to do these games on Saturday and Sunday. So I get to the see the Nationals and Cubs this week, I get to see the Cleveland at the Rays next week. I get to see all these clubs and I can take their temperature on Saturday and Sunday to see if what I'm reading and what I'm seeing is what I'm seeing in person.
Because a lot of these times I'll hear "this is quite a team," and I'll see them for a couple of days and not be impressed. And just the opposite with other teams. People will say, "They're really struggling they're not a good team," and I'll watch them and think "this team is very good." So I'm just lucky that I can do these games on Sunday and get a temperature of these teams and also get knowledge so that in October I can say "I saw this guy pitching in August and he couldn't get anybody out but right now he's as good as anyone out there." Those are good stories for fans that are trying to watch the game.