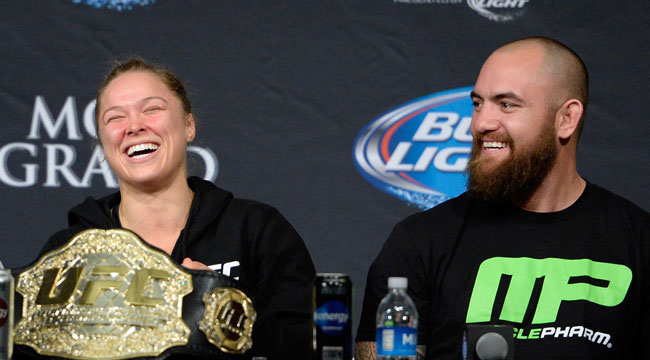 Rumors have been swirling for a while that Ronda Rousey was dating fellow UFC fighter Travis Browne, but now we have confirmation that the relationship is real. First, Travis talked about it on The MMA Hour. And shortly after, Ronda released a statement to ESPN:
"I don't talk about my personal life much. That's why it's called 'personal life.' It's true that Travis and I are in a relationship. I've really enjoyed the time we have spent together and getting to know one another. And that's all I'm going to say about it."
That may be all Ronda will say, but the Internet will surely fill the void with many questions and potentially incorrect answers. So, in the interest of informing you fully on who exactly Travis Browne is and what he's all about, we've prepared a little primer for you.
Travis Browne: UFC Heavyweight
First and foremost, Travis 'Hapa' Browne is a mixed martial artist who has been competing in the UFC heavyweight (206-265 pound) division for the past five years. His record stands at 17-3-1 with his only losses coming to champion Fabricio Werdum, Bigfoot Silva, and Andrei Arlovski. When it comes to his wins, he's got something in common with Ronda Rousey — he tends to win fast, and in brutal fashion. Thirteen of his 17 wins have come in the first round, mostly via knockout. Eight were in the first two minutes, and two were in 10 seconds flat.
As of October 2015, Browne is ranked No. 5 in his division by the UFC. At this point in his career, he's one strong performance away from earning himself a title shot, and would have been next in line for the winner of the Fabricio Werdum vs. Cain Velasquez title rematch if he hadn't lost to Andrei Arlovski in May. That one was a back and forth slobberknocker of a fight, though, which the UFC loves. So, Browne is positioned very well as a challenger for the belt.
Skills-wise, Browne is a 250-pound knockout artist with surprising speed and agility for his size. He has a wild style that involves lots of big haymakers and running kicks, but has been tightening up into a more technical striker since joining the Glendale Fighting Club, which is where he met Ronda Rousey. He'll need those improved skills — the last time he faced current champ Fabricio Werdum, he was picked apart with ease by Werdum's technical boxing.
While he lacks the amateur wrestling credentials you often see with other UFC fighters, Travis has strong takedown defense and managed to stay completely off his back for the first three years in the UFC. His jiu jitsu game is also legit. He holds notable wins over names like Alistair Overeem, Josh Barnett, Gabriel Gonzaga, Brendan Schaub, and Stefan Struve.
Travis Browne: The Man
Onto Browne's personal life. Travis was born in Oahu, Hawaii and is half-native Hawaiian on his father's side. He has been married twice and has two sons with his first wife. He is currently in the process of getting a divorce from his second wife, fitness model Jenna Renee Webb. That whole situation is further complicated by accusations from Webb that Travis physically abused her during their relationship.
In July of 2015, Webb posted Instagram photos of bruises to her arms, legs, and face, with the message: "Probably one of the hardest decisions I've ever made was walking away from this life and starting over. I'm still ashamed for staying as long as I did. #domesticviolenceawareness." The UFC immediately suspended Browne pending an internal investigation — the results of which were just released earlier this October.
According to the former detectives and legal counsel hired to look into the situation, there was "inconclusive evidence" to support Webb's claims of abuse. Browne's suspension was lifted shortly after. Webb is now considering filing formal charges against Browne. For his part, Browne denies ever touching his ex, saying, "Have I ever gotten physical towards her? No, absolutely not. Like I said, there's circumstances surrounding all this. That's up to her and her family to deal with."
So, now you have the details on Travis Browne, a talented heavyweight fighter coming out of the shadows of some serious personal allegations. We'll see how he fares being the new Mr. Ronda Rousey and the spotlight that brings onto his accomplishments and failings. It shouldn't take too long for that to become apparent; his last fight was back in May, and he should be returning to action soon now that his UFC suspension has been ended. And if he continues to improve at the pace we've witnessed thus far, he may even be UFC heavyweight champion by this time next year.