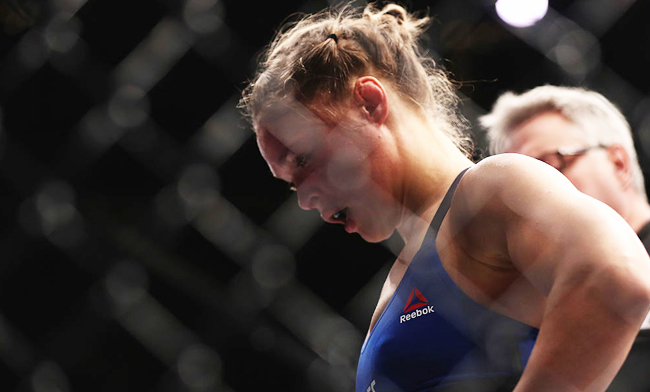 Outside of an appearance on Ellen and a brief sighting at this year's gamer expo E3, Ronda Rousey has completely avoided the spotlight following her knockout loss to Amanda Nunes at UFC 207. Now, UFC President Dana White is adding his voice to the general conclusion that Rousey is going to retire, telling ESPN flatly: "I think people realize she's probably going to retire."
Plenty of think-pieces have called for Rousey to step away from the sport. She has nothing to prove to anyone after taking what Cris Cyborg and Gina Carano started to another level and blazing a path for women in the UFC. Her knockout losses to Holly Holm and Nunes don't detract from her legacy as a superstar. But even under the retirement talk, murmurs of a comeback stir. Ronda is still in the UFC's anti-doping testing pool, and she's made some interesting social media posts in the last few months that hint at a possible comeback.
According to White, she remains in testing because that's pretty much how Ronda is wired:
"That's not because she had to, that's the way Ronda Rousey is built. Ronda Rousey is super competitive and doesn't like to lose. I know she's been criticized for that by a lot of people, but that's just who she is and the way she is.

I've never been one of those promoters that looks at, 'Oh, imagine how much money I can make if Ronda Rousey comes back' or the Chuck Liddells, all those guys. I'm actually the guy who, when somebody even hints at retiring, says, 'I think you should retire.'

No matter how big of a star you are, once you've retired, you should probably stay retired and move on, build that next chapter of your life."
Ronda has stated that she wants to settle down and have a family since before she was even in the UFC, but the other underlying theme to her retirement is the possibility of her joining the WWE. She met up with Triple H before the Mae Young Classic last month and loves pro wrestling. One of her best friends and gym mates is Shayna Baszler who is making a name for herself on the indie scene.
Despite her self-imposed lack of promotion in what could be her final UFC fight, people are still infatuated with Ronda Rousey, and if this is the end, it doesn't mean she won't be out of the spotlight, she'll be moving onto the next chapter.
(Via ESPN)