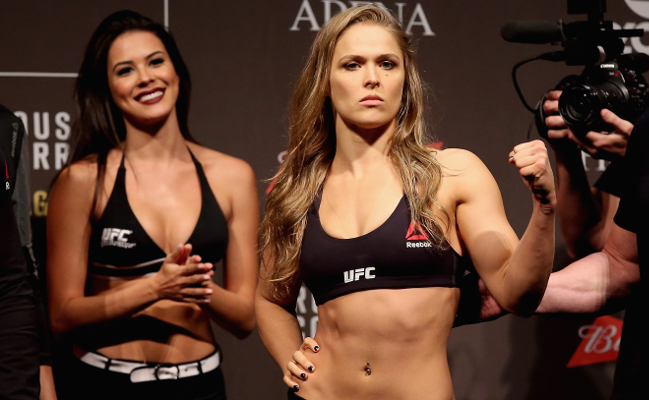 Hello fight fans. We have a busy day of fights ahead of us, including the much-hyped UFC 190 main event between Ronda Rousey and Bethe Correia.
SATURDAY
In a slightly misguided bit of scheduling, the C-level promotion, World Series of Fighting, is going up against a Ronda Rousey-headlining PPV. The good thing is that you can probably catch some of the WSoF bouts in between the Big Time Fights. The prelims kick off at 8PM ET online, and the main card is at 11PM ET on the NBC Sports network. There are two title fights headlining this card, and both should be fun. Marlon Moraes defends his bantamweight crown against Sheymon Moraes, while Rousimar Palharaes puts his welterweight title on the line against Jake Shields.
Premier Boxing Champions: Garcia vs Malignaggi
Just to make this weekend a true night of combat sports, Premier Boxing Champions will feature undefeated Danny "Swift" Garcia taking on Paulie "Magic Man" Malignaggi, as well as Daniel "The Miracle Man" Jacobs facing Sergio "The Latin Snake" Mora. The fights start at 9PM ET on ESPN, so if you want to watch some boxing with your MMA, this should be a solid card to check out.
Another week, another title fight in the UFC! Things have been super intense in the lead up to the main event, but first, let's figure out what's going down on the prelims.
The early prelims will be on Fight Pass, starting at 7PM ET. Hugo "Wolverine" Viana is here, and he's bringing his crazy facial hair up against Ninja Cannetti, while two middleweight sluggers are going at it when Vitor Miranda takes on Clint Hester.
Regular prelims kick off at 8PM ET, on Fox Sports 1. Top 15 light heavyweights clash as Patrick Cummins faces Rafael Cavalcante, and in the final preliminary bout, Demian Maia fights Neil Magny in welterweight action.
The main card is exclusively on pay-per-view, beginning at 10PM ET. There are an insane 7 fights here, including the two TUF Brazil tournament finals, featuring dudes nobody has ever heard of. However, there are also some solid bouts on the main card, like Maori warrior Soa Palelei taking Moai statue Antonio Silva in heavyweight action. Also in the BEEF BOY division, gangly giant Stefan Struve takes on the Frankenstein's mummy known as Big Nog. That's not the only Nog in action, though, as Rogerio Nogueira faces Shogun Rua at light-heavyweight, in a rematch of a fight that took place 10 years ago.
The main event is, of course, "Rowdy" Ronda Rousey putting both her undefeated record (she's not unblemished, she does have a beauty mark, after all) and the UFC women's bantamweight title on the line against Bethe "Pitbull" Correia. These two have exchanged a lot of unkind words in the past, so it will be interesting to see how things go when they get physical.