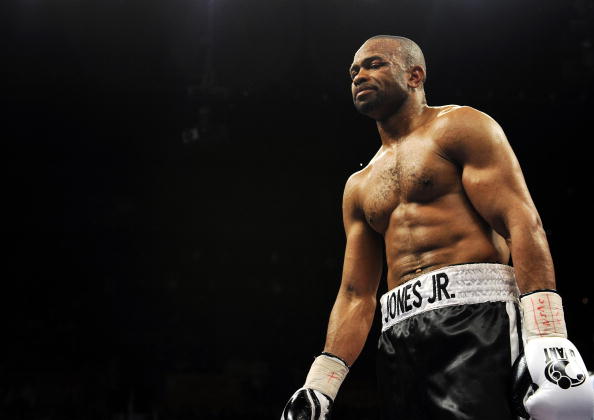 MMA versus boxing. Up until last year, it's not something anyone seriously wanted to see, because the outcomes were so obvious: an MMA fighter in boxing would lose and a boxer in MMA would lose. But last year, Conor McGregor and Floyd Mayweather started stoking the fire for a potential boxing match between them, and through sheer gravitas have made it something the public wants to see, if only because it would undoubtedly be a dramatic and entertaining trash fire.
And it just may happen. Despite what UFC president Dana White keeps saying, talks are clearly going on behind the scenes in some capacity or another. As proof, consider this: another boxing legend, Roy Jones Jr., is campaigning to fight Anderson Silva as the co-main event on the theoretical superfight card. And according to him, he's going to meet with UFC bosses to "discuss several things, and we'll see what happens."
Jones laid things out for Conor McGregor's news website The Mac Life.
"Me and Anderson have, for five or six years now, been trying to get a boxing match between us," Jones said. "We're two great icons of our sport, two legends, and it's not often you get to see two legends get in the ring together. That's been going on for the last five or six years, and if Conor and Floyd do fight, us would make it a big event. I mean to put us on the undercard as the co-main would be a really, really big event. Not only us fighting but people want to see a boxer versus a MMA guy."
"Anderson still wants it, he's about 40 years old, he's reaching the end of his career, he's reaching the end of his prime zone. I'm reaching the end of my primal age, so if we're gonna make it happen, there's no better time than now. I'm thinking he's feeling the way I'm feeling, and I know he's been wanting to do it, because as soon as I [mentioned it] he came back and said 'Why should a man not be allowed to achieve his dream?' and his dream is mine, it's a great situation for both of us that we both want."
It's true: how can the UFC allow Conor McGregor his dream and not the dream of Anderson Silva? Silva probably also has some serious brownie points with the UFC right now after stepping in the save UFC 200 and UFC 209. But the UFC also knows what I mentioned above: MMA fighters aren't likely to win boxing matches, especially against some of the greatest boxers there ever was. It may be a short term financial gain for everyone involved, but the potential long term affects getting punked in the ring could have on the careers of the MMA greats (and maybe even the sport of MMA in general) could be bigger.