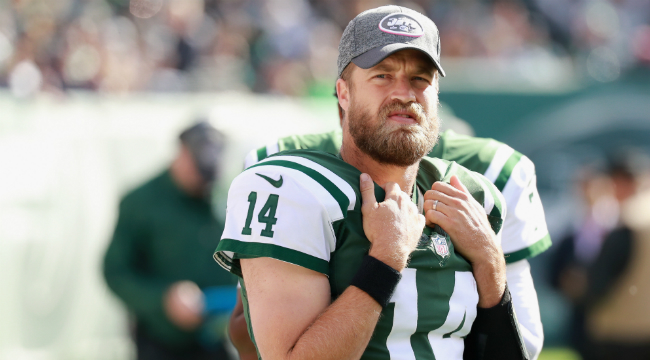 Ryan Fitzpatrick is once again the starter for the New York Jets after being benched only a week, thanks to a horrifically timed (and just plain horrific) Geno Smith injury that came just two quarters after Smith was named the new starter. It's awkward, because once you bench a guy, he tends to remember it as a slight. As a result, he fired off some anger after he led the Jets to a win in relief:
"The biggest thing in this game, in order to last, is to have belief in yourself, because when the owner stops believing in you, the GM stops believing in you, and the coaches stop believing in you, sometimes all you have is yourself."
That's some hot fire, but you can't say the Jets' staff didn't deserve it. Head coach Todd Bowles came right back at Fitzpatrick, though, clowning on him for the prodigious turnover rate that precipitated Ryan's benching in the first place.
"If pissed off is going to stop the turnovers, I'm more than happy to have him play pissed off."
Oh man, this is the most fun the Jets have been in years. The standoff between them and Fitzpatrick was the saddest free agency saga of this past NFL offseason, and it was all precipitated because the Jets had absolutely no trust in backup Smith. Everyone knew it, and it's why Fitzpatrick signing the deal he eventually did was an inevitability. And for all the supposed competence and stability he was supposed to bring, he was a complete liability and absolutely deserved to be benched.
Smith tearing his ACL right as the coaching staff was finally ready to get behind him is some all-time bad luck, and it also put the Jets in the position of sheepishly going right back to Fitz. It's all deliciously awkward, but then again, now that the Harvard grad has been benched and forced back into the lineup thanks to injury, this is the point in the Fitzpatrick cycle where he starts playing well. Here come the Jets!
(Via ESPN)