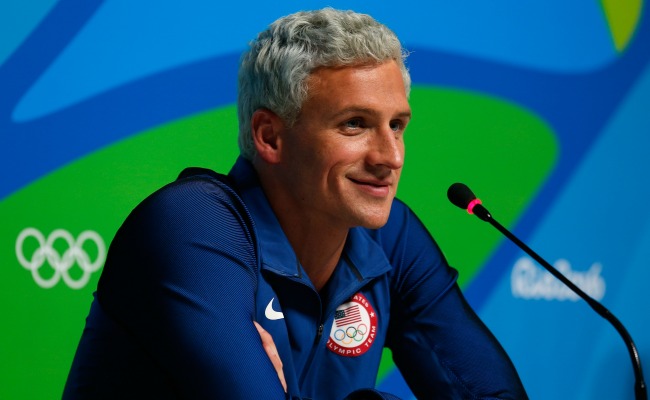 Further proof that America is willing to give a white male athlete endless opportunities to succeed, things are once again looking up for Ryan Lochte. Things were looking grim earlier this week for America's Idiot Sea Cow following his bad behavior in Rio, which caused sponsors like Speedo and Ralph Lauren both pulled their support of the medalist. All was not well in Lochte Nation.
However, it looks like Lochte will be getting yet another shot at the spotlight, this time on the dance floor instead of the in the pool. People reports that the Olympian is in talks to join Dancing With The Stars for season 23 (oh my god, so many dancing celebrities).
According to a DWTS "insider," Lochte has wanted to be on the show for years. As public opinion surrounding Lochte is at an all-time low (somehow even worse than after What Would Ryan Lochte Do?) this could be his shot to get back in our good graces. He told People on Wednesday that he was disappointed in himself following the lies and property damage in Rio.
"I've been thinking about it a lot, because I have a big heart, and I feel like let down a lot of people," Lochte told People on Wednesday. "I feel bad that I have let people down."

"Everyone started watching it, and they didn't watch the athletes," he continued. "That's another reason why I'm so hurt by it, because it took away from the Games."
Whether or not this will help his PR remains to be seen, but we'll see if people are willing to give him another shot. What does Lochte think of his chances?
(Via People)