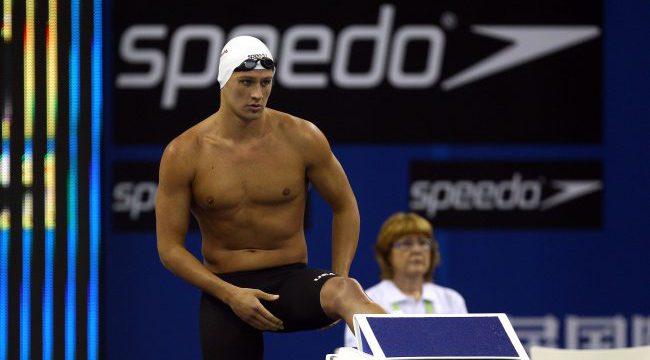 Ryan Lochte is plum out of luck when it comes to his sponsorship deal with Speedo, as the banana hammock company announced Monday that they will no longer support the swimmer after his shenanigans at the Rio Olympics.
When a company that sells a product that makes middle-aged men at the beach look like they are smuggling a ferret says you've done something in bad taste, it's time for some serious self-examination. But this is a strong statement from Speedo, which also gave $50,000 to a children's charity in Brazil. You now think of Speedo as the socially conscious company and not just the company that makes taking your kids to the beach an uncomfortable endeavor.
But is this the beginning of the end for Lochte when it comes to lucrative sponsorship deals?
NBC News looked at all of Lochte's sponsorships and should they all drop him, he could lose millions of dollars, which is a shocking figure for those of us that only think about Lochte for one week every four years.
"The simple answer is he's going to lose a lot," said Scott Kirkpatrick, partner, Chicago Sports & Entertainment Partners. "In the future, I can imagine there's not too many brands looking to sign him up," he said. "So many wonderful stories and so many athletes … Why take the risk?"

Lochte's deal with Ralph Lauren is reportedly as much as $1.8 million, according to MoneyNation.com, which pegs the swimmer's net worth at $6.2 million, thanks primarily to a marketable face and persona. Over the course of the last two Olympics in Beijing and London, Lochte had cultivated a reputation as one of the Games' more colorful personalities, and, over the years, attracted sponsors like Speedo, Gillette, Gatorade and Ralph Lauren.
Even if Lochte loses all those endorsements, it's hard to believe other brands won't try to sign him. Flomax should be all over Lochte, who could star in a commercial about bladder control. What about a gas company? Or Uber? Or a security camera company? Or a gun manufacturer? Or an appearance in Zoolander 3?
Why am I not Lochte's agent?
UPDATE: It looks like Lochte is going to be out another $1.8 million as Ralph Lauren has elected to not re-up its endorsement.
(Speedo, NBC News)