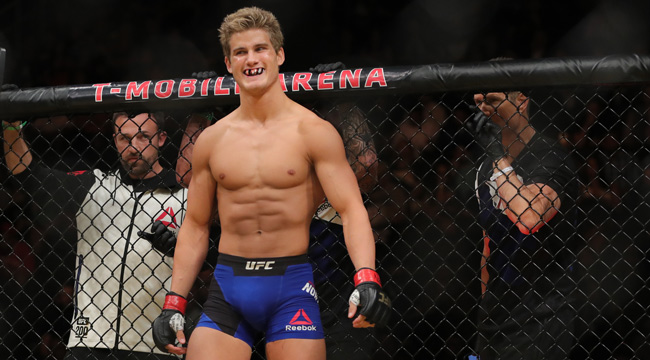 Is Sage Northcutt about to go Hollywood?
The much-hyped UFC prospect has gotten a lot of breaks in the world of mixed martial arts, and now it sounds like he may be on the verge of getting some similar good fortune in the film world with a plum movie role. Appearing on this week's MMA Hour, Northcutt revealed that he'd sent in an audition tape in the hopes that he may play Ivan Drago's son in Creed 2.
"The new Creed 2 movie is coming out so I was actually going to audition for that," he told MMAFighting.com's Ariel Helwani. "Got a little audition tape so hopefully that goes through. That would be pretty neat. Being Ivan Drago's son in the movie? That would be pretty fun."
"I had some friends of mine and they were talking about it with me and I just got linked up with it," Sage continued. "A few people, Mr. [Urijah] Faber mentioned it too, so it was really cool how it all came together."
Sage has a couple other advantages that the average Ivan Drago lookalike may be lacking. Creed 2 is being put together by WME, the same company that bought the UFC last summer for $3.6 billion. It might take a while for him to hear back, though. The WME executive that was in charge of pulling the film together was the same one who just got suspended for allegedly groping Terry Crews.
We figure his chances all depend on how big the role is. If Ivan Jr. just shows up once or twice in the background to scowl silently, Northcutt could probably do that. But if it's a speaking role, we think Sage may just be too golly gee whizz to pull it off. It doesn't help that his boy next door schtick is reknowned in MMA. It'd be hard for anyone who knew him as an athlete to buy him as a tough as nails Russian killer. He's certainly got the physique to pull it off, though.