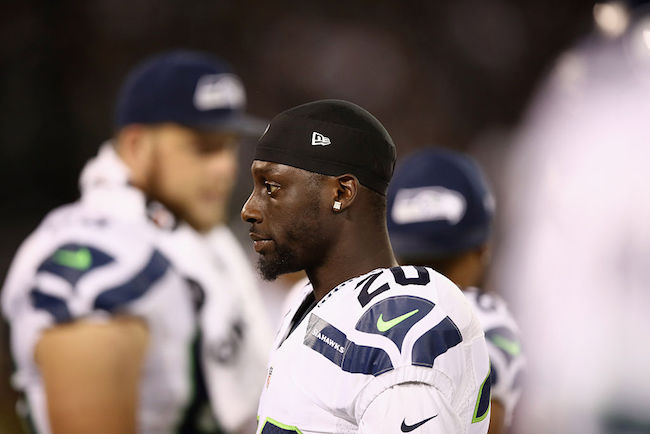 When Colin Kaepernick sat alone during the national anthem during a preseason game, it was unclear if anyone would join him. Kaepernick endured quite a bit of expected criticism, but as the dust settles, Kaepernick's protest slowly permeates throughout the league. First, teammate Eric Reid joined Kaepernick in protest. Next, Seahawks cornerback Jeremy Lane took a knee. Lane's protest appears to have struck a chord within the Seahawks locker room. The Seattle Times reports that Doug Baldwin and Bobby Wagner have discussed a team wide protest of the anthem before their game in Week 1.
"I have (considered it)," Baldwin said before Seattle's practice Wednesday afternoon. "I want to make sure I get all of my ducks in a row before I do so.''
Baldwin mentioning getting his "ducks in a row" may be an indication on the amount of thought going into the specific protest action of the anthem. Kaepernick had to clear through a swarm of noise to clarify his message loud and clear. Whatever the protest action may be, Wagner indicates that it will be unique and done as a team.
While Wagner said he didn't know if he would sit down during the anthem he said "anything we want to do, it's not going to be individual. It's going to be a team thing. That's what the world needs to see. The world needs to see people coming together versus being individuals."

Wagner said he couldn't say exactly what the team might do, saying "whatever we decide to do will be a big surprise."
Week 1 falls on the 15th anniversary of 9/11, a sticking point that will give any protest some teeth. In reality, the date shouldn't add any weight to a protest of racial inequality within the United States, but it will be a point of emphasis in the debate nonetheless. The Seahawks are well aware of the date and the significance wrapped around it.
"Absolutely," Baldwin said of it the date needs to be taken into consideration when deciding whether to protest. "I think that anybody should be thinking about that. Even if it wasn't September 11 the point of the protest is to get people to think. I think it's very ironic to me that 15 years ago on Sept.11 was one of the most devastating times in U.S .history and after that day we were probably the most unified that we have ever been. And today we struggle to see the unity.
The protest, in whatever form it manifests, will be used by some as an act of division. The Seahawks appear prepared for any blowback to this calculated protest. Here's hoping their protest brings about the healthy discourse it so desperately needs.
(Seattle Times; h/t Deadspin)