By now, it should be obvious, but Week 2 of the college football season proved it for anyone still on the fence: A schedule doesn't matter in college football. Winning does. Maybe it's an overcorrection after all the talk about Baylor's schedule last year. Maybe the SEC as a whole got together and tried to tear down Ohio State despite the Buckeyes beating Alabama and Oregon en route to a Championship last season. Or maybe strength of schedule is this year's buzz phrase. (And let's all be thankful we have something other than "Game Control" to argue about in 2015.)
Let's not forget this all started on a teleconference where Arkansas' Bret Bielema said, "Ohio State's ranked No. 1 and they have one game remaining on their schedule that has anybody ranked right now — Michigan State. We're going to play eight straight opponents that are ranked." Bielema was referring to the SEC's 10 ranked teams at the time as if rankings weren't fluid, but he found out the hard way just how little weight that holds after his team fell to unranked Toledo in Fayetteville on Saturday.
"I think we tend to have a little bit of an anytime, anywhere mentality," MAC commissioner Jon Steinbrecher told Uproxx Sports on Monday, "but, by definition, anytime we're playing an FBS school, we're playing big boy football. If you're going to swim in this pond, you better be willing to step up and challenge people. If we're as good as we like to think we are at times, we ought to be winning some of those games. It's easy to talk about it. It's not always easy to do."
Steinbrecher mentioned the MAC's approach to scheduling, but he may as well have been speaking to the nature of FBS scheduling in general. Everything is under the microscope with teams trying to make the Playoff, whether it's quality wins, strength of schedule, advanced metrics, or overall record, and the committee isn't a computer formula. There is human bias in play.
While we all want more games between power conferences like Oklahoma-Tennessee and Oregon-Michigan State, most schools aren't going to load up and bring the Tom Izzo style of scheduling (to borrow from college basketball season) where you challenge yourself week in and week out. That means scheduling the occasional FCS team or Group of Five program if you're the SEC or the Big Ten.
"Let's face it," Steinbrecher said, "the SEC is a really good conference. They've earned the right to have a little arrogance. And you could say the same about the Big Ten. By the same token, we have a number of teams that can flat-out play, as well."
Coaches – and pundits – love to wax poetic about the nature of cupcakes. The only problem? Even cupcakes can kill. And some of these games are far, far from a gimme.
Arkansas fell to the Rockets, who have one of the brightest young coaches in Matt Campbell. Auburn almost bit it against Jacksonville State and needed overtime to escape. Bowling Green under Dino Babers has a high-octane offense, and the Falcons took it to Maryland.
And in Week 1, three different FCS teams (South Dakota State, Portland State and North Dakota) took down FBS teams. Still, others like Southern Illinois and Youngstown State came close.
"When our teams go out and beat an FBS opponent," Big South commissioner Kyle Kallander said, "and we have a couple of times, it definitely helps the image of the conference and the institutions who pulled off the upset. I know the winning percentage isn't very high, and you usually don't win those games, but the occasional win is certainly a positive. There are a lot of competitive games out there between FCS and FBS teams, and that does reflect well on the quality of play at the FCS level. We have some really good teams. The difference between the upper level of the FCS and the lower level of the FBS really isn't very much."
When asked if it feels like a slap to the face for these games to be called cupcake games in the first place, Kallander had this to say:
"I think so. Some games are more competitive than others, but I don't think FCS gets the respect it deserves, and you see that year in and year out with the number of wins the FCS gets over FBS opponents."
Bicker about someone else's schedule if you dare, but if you don't beat the teams on your own, your argument is weaker than an absent-mindedly built tower of coffee creamers and sugar packets on a wobbly diner table. Nobody's making the College Football Playoff because of something said in a teleconference or a press conference.
The SEC, which had those ever-important 10 ranked teams in the AP Poll just a week ago, is now down to seven teams in the Top 25. The Big Ten, which now has four, is still really top heavy, with just Ohio State and Michigan State in the Top 20. These things are going to change throughout the year. And it's been said plenty, but needs to be said again: The polls don't matter. Even the first batch of Playoff Rankings at the end of October don't matter. Teams have to win the games put in front of them, or they won't have a shot at the Playoff – or a prestige bowl – in the first place.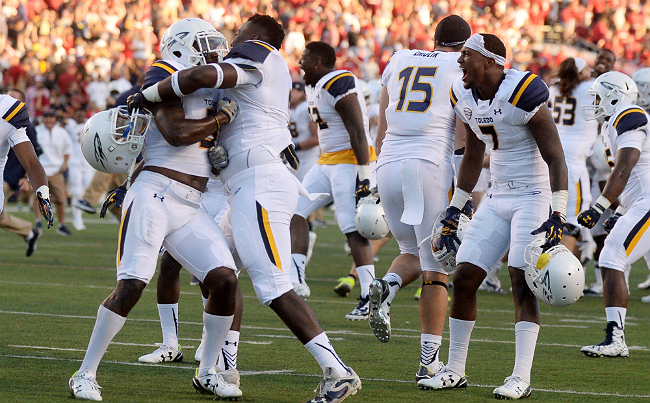 And now Bielema is the one being talked about, rather than the conference he so confidently put on a pedestal just a few days ago.
On The Dan Patrick Show on Monday, CBS analyst Gary Danielson had this to say about the Arkansas head coach: "He's becoming the Donald Trump of college football… you got to back it up."
Bielema, to his credit, isn't really backing down. On Monday, he not-so-subtly referenced Ohio State's loss to Virginia Tech last year as evidence that an early season defeat isn't a death knell.
Maybe Alison Krauss was right when she sang "you say it best when you say nothing at all," although I guess we could amend it to "when you say nothing at all through coachspeak." Perhaps nobody is best at doing that than Urban Meyer, who would probably align himself more with Harry Nilsson at this point. And he has that luxury anyway right now with his team ranked No. 1 even after a 38-0 performance over Hawaii where everyone was looking for flaws (well, they didn't cover the spread, so there's that).
Meyer said on Monday, "I don't know anyone's schedule. I don't care." He does know his own, and staring right back at the Buckeyes in a game they're supposed to win is a MAC opponent in Northern Illinois which has won at least 11 games in each of the past five seasons.
Ohio State isn't worried about the SEC or any other conference right now in its quest to repeat as the champs. The bottom line is if it wins every game on its schedule, it'll be in the Top 4. And no amount of talk from anyone else is going to change that.