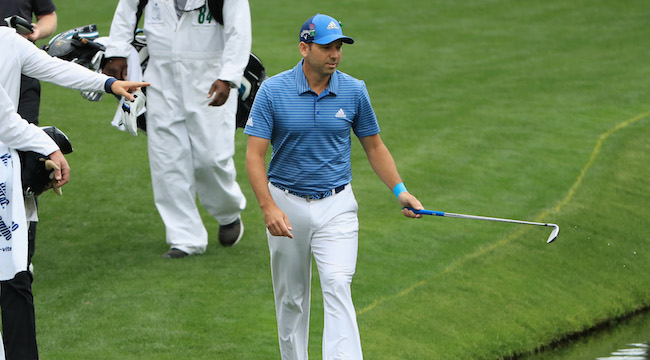 Sergio Garcia is the defending Masters champion, having won his first major last year when he took home the green jacket thanks to some spectacular ball-striking for the week.
Garcia has long been known for that ball-striking, earning a reputation as one of the PGA Tour's best with an iron in his hand. There's maybe no shot that illustrates that better than the dart he fired at the 15th hole at Augusta last year in the final round en route to his win.
So, when Garcia strolled up to his ball in the fairway on the 15th on Thursday there had to be nothing but positive thoughts in his head, which is what makes what happened next all the more unbelievable. Garcia went full Tin Cup, dunking five balls into the water short of the 15th green — the first from where his drive was and then four more from much closer with a wedge. The carnage looks almost unreal on the shot tracking system.

Garcia just kept pulling wedges down the slope off of the front of the green and into the water in what is an amazing scene.
He'd stick his 12th shot to 10 feet short of the hole and one-putt for a routine 13 on the par-5, essentially knocking him out of contention to even make it to the weekend. His 13 ties the highest score recorded on one hole at the Masters and is the highest ever recorded on the 15th hole. It's not exactly the history Garcia hoped to be making in his return to a beloved place, but it will certainly be a memorable moment in Masters history.