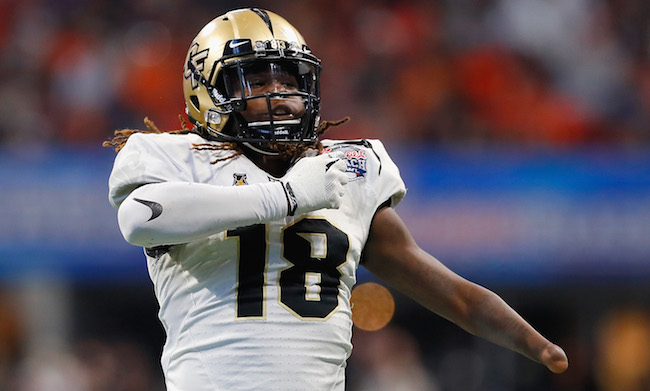 Shaquem Griffin was a first-team All-American Conference performer for UCF in 2017, racking up 74 tackles, 13.5 tackles for loss, seven sacks, an interception and a fumble recovery, but despite consistent performance at a high level in college he entered the NFL Combine with a lot to prove.
Griffin showed up in Indianapolis wanting to prove that he was more than capable of being an NFL athlete despite only having one hand. He has the production and has the game tape to back everything up, but NFL scouts are notorious for being the last to believe in someone that doesn't necessarily look the part.
On Saturday, Griffin started that quest off very well with an impressive 20 reps on the bench press while wearing a prosthetic, which wowed most in attendance and will go down as one of the most inspirational Combine moments ever. But Griffin isn't in Indy to inspire others, he's there to get a job playing football at the highest level in the world and on Sunday when the linebackers took to the field for workouts, he torched everyone with a blistering 40-yard-dash that dropped jaws everywhere.

Griffin's absurd 4.38 unofficial time on the NFL Network broadcast was confirmed by a hand time from legendary scout Gil Brandt, who clocked him with a 4.32.
That ridiculous time was enough to earn some praise from one of the league's very best defenders in J.J. Watt, who knows a thing or two about dominating at the NFL Combine, and Deion Sanders, who knows about ripping the 40-yard-dash.