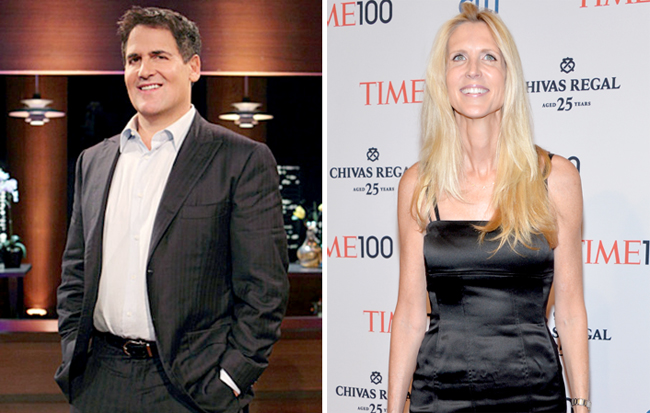 Here's what we know so far about the plot of Sharknado 3. Part of SyFy's third installment will take place in Washington, D.C., although the entire coastline all the way to Orlando, or "Feast Coast," will be affected. Given the Sharknado franchise's penchant for celebrity cameos, it was only a matter or time before we found out who would be playing the president and vice president in the Sharknado universe, and we now have our answer!
Mark Cuban — entrepreneur, owner of the Dallas Mavericks, and investor from the ABC series Shark Tank — has been cast as Mr. President (joining fellow Shark Tank co-star Daymond John, who got killed by the Statue of Liberty's head in the second one), while right wing she-demon Ann Coulter will play second in command.
As for who else we can expect to see pop up, The Hollywood Reporter has some insight:
They join a rapidly growing list of guest stars set to cameo in the third film in the cult hit including Bo Derek as May, the mother to star Tara Reid's April; Jerry Springer, appearing as Mr. White, a manic tourist; 'N SYNC's Chris Kirkpatrick as a pool lifeguard; and Chris Jericho, who will play Bruce, a roller coaster ride operator.
As much as I don't want to see a trend of Ann Coulter inserting herself into our beloved pop culture phenomena, this is the closest we'll see to Ann Coulter actually getting eaten by a shark, so I'm okay with it. But why stop there? Maybe we can even campaign for Nancy Grace to make a Sharknado cameo!