Things are going well for the Pittsburgh Penguins early in this year's Stanley Cup Final. The Pens took the first two games on home ice, with Game 2's win coming in an overtime thriller on Wednesday night.
Following the game, San Jose Sharks center Logan Couture made some interesting comments regarding Pittsburgh's captain, Sidney Crosby, who won 71 percent of his faceoffs on Wednesday night, and why he's been so effective.
After the 2-1 overtime victory, coach Mike Sullivan praised Crosby's hard work for his faceoff success.

Sharks center Logan Couture had a different explanation.

"He cheats," Couture said. "He gets away with that. He's Sidney Crosby."

Pressed for an explanation of Crosby's methods, Couture didn't back down:

"He times them, and yet they don't kick him out for some reason; probably because of who he is."
Well, that's certainly a theory. Maybe there is some truth to Crosby using unfair tactics to gain an advantage in the circle; Couture would know more than the rest of us. Unfortunately for Couture, though, he sure did a terrible job explaining why exactly he believes Crosby is a cheater, because timing faceoffs isn't exactly illegal. Everyone does it, because that's what you're supposed to do.
An alternate explanation for why Crosby is winning so many faceoffs is that he's actually really good at faceoffs! Good enough to call his shot on his final draw of the game, which led to Conor Sheary's winning goal.
Let's take a closer look at that, shall we?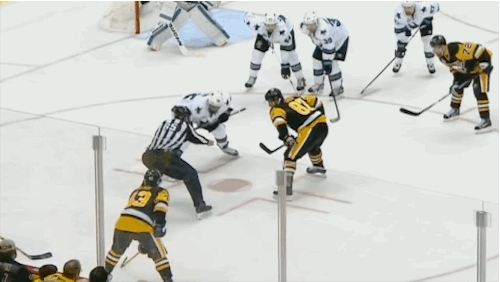 Call me crazy, but I'm not sure how that constitutes as cheating, unless you want to claim he didn't put his stick blade to the ice before the drop. Maybe that's what Couture meant, but when you call someone a cheater and then are pressed for an explanation, you should probably be more prepared to provide one.

However, it seems that Couture isn't the only Sharks player who's already sick of Crosby through two games in this series. Another San Jose center, Joe Thornton, basically tried to take his head off during play on Wednesday.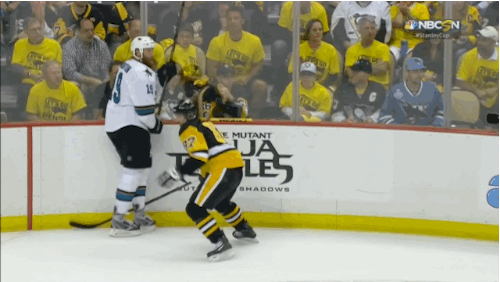 Regardless, in wake of Couture's confusing comments, the internet decided to have some fun with the #SidneyCrosbyCheats hashtag.