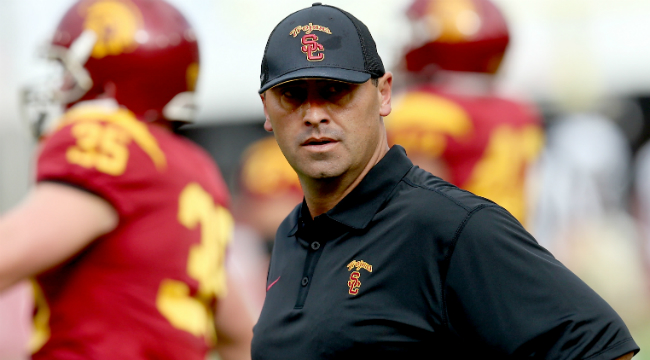 In the wake of Steve Sarkisian's problems with alcohol becoming public (and resulting in him seeking treatment), USC has decided they've had enough of the embattled coach. Here's Athletic Director Pat Haden's official statement:
"After careful consideration of what is in the best interest of the university and our student-athletes, I have made the decision to terminate Steve Sarkisian, effective immediately… Through all of this we remain concerned for Steve and hope that it will give him the opportunity to focus on his personal well being."
It's a sad conclusion for Sarkisian, but not a shocking one. Sarkisian has appeared drunk at increasingly inappropriate times this year, from a booster gala in the offseason to team meetings and on the sidelines during USC's September 26th game against Arizona State. He underwent a divorce weith his wife in the spring, and admitted it was affecting him after the initial incident at the preseason dinner. And of course, we've only heard a couple of anecdotes. We don't know how deep the problems have gone. According to FOX Sports' Bruce Feldman, they do indeed go deeper:
It speaks to the talent on this roster that the Trojans actually won the now-infamous game against ASU, 42-14. But whether because Sarkisian's issues were affecting them or not, they've underperformed the talent on the roster to a 3-2 record, most recently losing to Sark's former team, the Washington Huskies. Hopefully moving on from a clearly troubled Sarkisian will do them some good. Offensive coordinator Clay Helton became the interim head coach when Sarkisian's leave of absence was announced, and he will remain in that position for the immediate future.
(Via USC Athletics)