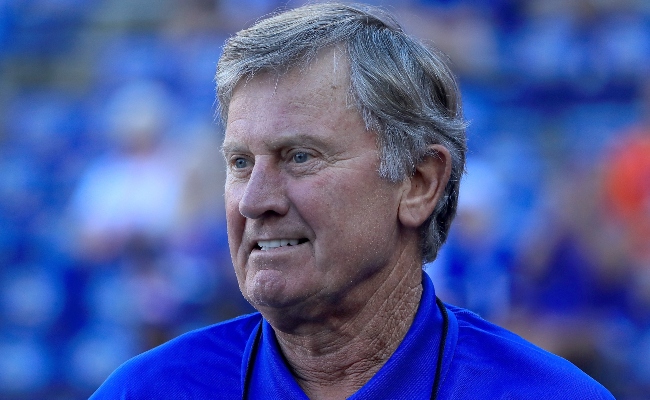 Football fans who were excited about a new, competitive spring league were let down on Tuesday afternoon, when it became apparent that the Alliance of American Football was headed towards its demise. The league's primary financial backer, Tom Dundon, decided to suspend all football operations before its first season came to an end.
Some day, there will be a fascinating 30 for 30 about all of this, because while we're still waiting for official word on what the future holds and for more reports to trickle out about why all of this happened, it surely seems like something incredibly shady is going on. For now, we have a football league that prominently employs Steve Spurrier shutting down for unclear reasons, and as such, the Head Ball Coach has something to say.
Spurrier, the coach of the Orlando Apollos, spoke to the press about the apparent decision to shut the league down, making it a point to excoriate those in charge for lying about the state of the league.
"Everybody wanted to play out the season and everybody is disappointed," Spurrier said, per Mike Bianchi of the Orlando Sun Sentinel. "Everyone was led to believe that the Alliance was well funded and we could play three years without making any money and this, that and the other. Obviously, everything that was said was not very truthful."
Spurrier went on to say that he's upset about how this will impact players who viewed the league as a chance to show off what they can do, although he does believe some "showed enough" to get an opportunity. Still, Spurrier's Apollos have the best record in the league, and as such, he wants a trophy.
"We're all disappointed, but on the other side, we gotta be the champs, right?" Spurrier asked. "We're 7-1 and the next teams are 5-3."
One beautiful thing about Spurrier is he's pretty good at blurring the line between being serious and telling a joke, so it is unclear whether or not he believes this. I, for one, choose to believe he is, because he's a competitor and because his team worked hard to get this title, so please add "AAF Champion" to his bio, College Football Hall of Fame.
(Via For The Win)