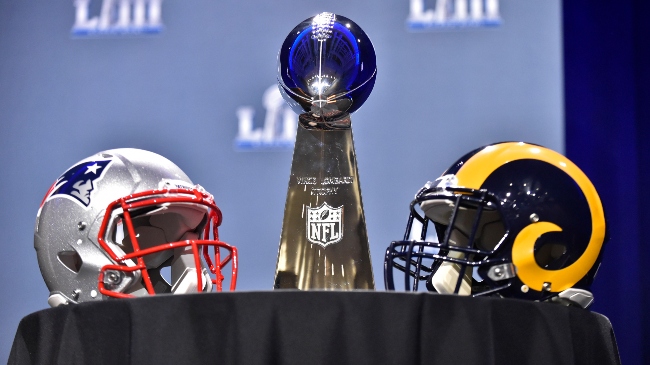 It's been a successful season in this space, trying to find winners and succeeding in that endeavor at a reasonable rate. That extended to AFC/NFC Championship weekend with a 3-1 mark but, of course, the Super Bowl is upon us and there is plenty to examine.
If you are looking to get (super) weird with a long prop sheet, we have you covered elsewhere but, even with a relative lack of options, it's time to unveil two selections for Sunday's contest. Before we get there, however, let's take a final look at how the full season went.
Championship Weekend: 3-1
2018 Season: 52-42-4
Come get these winners.

Los Angeles Rams and New England Patriots UNDER 27.5 points in the first half
I really hope you jumped on this one already, if only to get the best of the number. Honestly, 27.5 isn't ideal but it's still the right side in my view. The full-game total (56.5) is settling in to where it probably should be but this has the feel of a game that will include a "feeling out" process in the early going.
Both teams will run the ball more than you might think and there are sometimes early-game jitters on the game's biggest stage. For the most part, all of the sharp action (at least that is tracked and available) for the first half seems to be on the under and there is a reason for that. Let's generate some punts together.
Los Angeles Rams (+3) over New England Patriots
At the time of this post, you have to shop to find three (both in Vegas and off-shore) but the number is available in some spots. Even if you can't get it naturally, it's worth buying the half-point in this space, as three is a key number of the highest order. Quite frankly, this is a "fade the public" special.
Are the Patriots better than the Rams? Maybe, but it isn't a lock and, on a neutral field, New England simply shouldn't be laying three points. The mystique of Belichick and Brady is terrifying to fade but people seem to have forgotten that the Patriots lost the Super Bowl exactly one year ago and the Rams are very, very good at football. On the opening number, I probably would've taken the Pats, simply for value purposes. Then, the public money flooded the market on New England in the wake of their absurd "nobody believes in us" run and Los Angeles is now the sharper side.
It may not be fun to sweat and, honestly, this is probably a stay-away spot under normal circumstances. It's the Super Bowl, though, and the Rams (with the full three) are the value side if you are going to play it.