The Super Bowl is a celebration. It is a celebration of the two best football teams in the NFL. Maybe more so it is a celebration of American capitalism and commercialization. But most of all, it is a celebration of food.
The Super Bowl is gluttony in all forms and is meant to be enjoyed as such, which is what makes Super Bowl parties so fun. A great Super Bowl party starts with great food, but there are certain criteria that must be met.
Most Super Bowl parties do not have the appropriate number of seats or table space for the number of guests that will be arriving. So, your food options have to be considerate of the fact that many people will be eating sitting somewhere without a table to set their plate down on or just standing up. That means things that require two utensils to eat must be out. If you can't eat it while holding the plate or bowl in one hand and one utensil in the other, it needs to be scrapped.
Also, shelf life is crucial. If it can't be served cold, at room temperature or easily kept warm, then it's not going to go over well. People want to be able to go grab some food as they please and come back throughout the game. The main course, if served exclusively at halftime, can be the exception to this rule, but even then you'll have grazers who want to loop back for more in the second half.
There are certain things you're going to have that don't get ranked. The ubiquitous veggie tray. Is it necessary? Probably. Is it good enough to find its way onto this list? Absolutely not. Don't yell at me about that, it's not my fault you think celery and carrots are better than chips and dip. You're only lying to yourself.
There are many different kinds of Super Bowl party foods, so I've broken up my rankings into a few categories, because it isn't fair to compare a dip to a main course. So, without further ado and the above criteria in mind, here are the best Super Bowl party foods, ranked.
Chips
5. BBQ: No one complains about BBQ flavored chips. They're the solid rotation player of the chip game. They aren't super versatile for dipping, but on their own, they are very good. Sour cream & onion was the other consideration for this spot, but BBQ is the way to go. I love salt and vinegar, but that's a much more niche market and you can't serve that alone.
4. Ruffles: Ruffles are very good with certain dips (we'll get to dips in a minute). So there's some versatility there, and I also like the crunch of a crinkly chip more than a standard potato chip. Also, Sour cream and cheddar Ruffles are amazing, so if you're going standalone, they work great. Also, don't confuse Wavy Lay's for Ruffles. Wavy Lay's lack the structural integrity to handle a thick dip.
3. Doritos: Cool Ranch Doritos are among the best chips ever. Don't @ me. Nacho Cheese is fine. Sweet, Spicy Chili is quite good, but Cool Ranch is the best.
2. Fritos: My hot chip take is that Fritos are wildly underrated. They're delicious on their own, and Fritos Scoops are the best chips for dipping into non-salsa/queso dips. If you have a buffalo chicken dip or something of the sort popping at your party, please provide Fritos Scoops.
1. Corn/Tortilla: There will be no surprises here. You best have some corn chips or tortilla chips at your party. I don't care what brand. Load up on the Santitas for all I care. They're delicious and only $2 a bag. No one will judge you for not breaking the bank on Tostito's or Mission. Hell, if you buy Mission chips for a party I will assume you make six figures a year and I won't feel bad for leaving with food I didn't even bring to the party when it's over.
Dips
5. Guacamole: Some people like guacamole too much. It is good and it should be at your party, but it is not the most elite of the dips. Guacamole is fine, but I am first and foremost a fan of spicy dips, so guacamole works as a great cooling agent and secondary dip. This is my strongest dip take and it will anger people and I do not care. I stand behind it.
4. French Onion: Another dip that offers a cooling element, but this is one of my very favorites. However, the reason French Onion dip falls behind the others is twofold. First, French Onion dip requires Ruffles or a strong crinkly potato chip to maximize it's deliciousness. Therefore, versatility with what you can dip in it is less than some others. Second, there is a threshold for too much French Onion dip. It's delicious, but at some point, you cannot consume anymore. The flavor is just so strong. That keeps it from being the main dip, and therefore it cannot find its way into the top three.
3. Salsa: Don't look past the classic. There are very few things better than a good salsa. If a salsa has the right balance of heat and flavor, it earns its spot near the top of the dip rankings. Salsa is versatile with its usage too, which helps its cause. It can go from dip to topping for a main course or side dish very easily.
2. Buffalo Chicken: I am from the South and therefore have a predisposition to love buffalo chicken dip. I can't help it. You can make it in a crock-pot and then just serve it straight out of that while set on warm for easy access and to keep it the proper temperature. Throw some Fritos or tortilla chips next to it and be done.
1. Queso: The best dip. I will not stand for other arguments. You can get wild and throw some meats in there if you want, it's the Super Bowl, why not make it Fundido. Throw this in a crock-pot to keep it warm and people will be happy. However you do it, a strong queso is the best Super Bowl dip.
Appetizers
5. Potato Skins: Potato skins are great. They have potato, cheese, bacon, sour cream and maybe some other goodies. That's wonderful. However, the shelf life of a potato skin is approximately 15 minutes. After that, even if being heated, it takes a drastic downward turn. Great upside here, you just have to make sure they get out to the people fast enough.
4. Mozzarella Sticks/Jalapeno Poppers: I'm lumping all fried cheese elements together because this is my list. Both of these are great, but like the potato skins, the shelf life is your issue. Once that cheese congeals, it's a wrap, and if you try to keep them warm for a long time they lose the crunch on the outside.
3. Pigs In Blankets: I love pigs in blankets. They're a delightful little snack that you don't need a utensil for and they won't drip anything on you like any of the other options with melted cheese. They also have a longer shelf life than either of the above options. While best when hot, they are more than fine when room temp and can be easily reheated.
2. Chicken Tenders/Nuggets: Get you a tray of chicken tenders or nuggets from Chick-Fil-A (or any reputable chicken source) throw a few sauces out there and be done with it. People will eat them hot or room temp without too much complaint.
1. Sliders: I'm a big fan of sliders in all of their forms (beef, chicken, pork, whatever). They've got a longer shelf life than the things with melted cheese and is easier to keep warm. You can also let people throw on their own toppings for the customizable aspect not quite as available with the tenders and nuggets.
Main Courses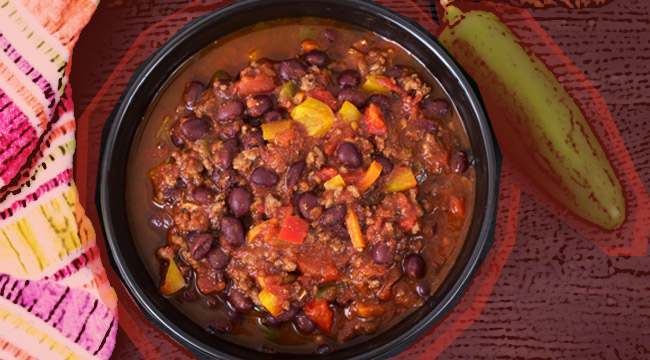 5. Pizza: It's impossible to go wrong with pizza. You order a bunch, keep them in the oven to stay warm and break them out as you go. There's all kinds of variations you can get to please everyone. I get the allure of pizza for the big game. It's easy, no one will be mad, but I think you can do better for the main course.
4. Jambalaya: Lowkey, one of my favorite Super Bowl parties was the Saints-Colts game so the food theme was New Orleans and we had Jambalaya as the main course. It's a hearty meal that's easy to serve in the buffet line. Scoop it into the bowl, grab a fork or spoon and roll out. It's easy to eat sitting or standing and has all those good meats and spices. I highly recommend Jambalaya.
3. Chili: Similar benefits of Jambalaya, as it's easily prepped before the game and kept warm until it's time to serve and then it's just an easy roll through the buffet line. Keep some shredded cheese, onions, hot sauce, sour cream and oyster crackers at the end of the line for people to top it off and you're good to go. Also, chili is just one of the best foods, period.
2. Taco/Nacho Bar: The versatility of the taco bar is great. You put out some shells, tortillas and you already have the chips so people can go tacos or nachos depending on how they're feeling. It's the most customizable of all the foods for different people to get what they want. You put out some ground beef and shredded chicken for meat options, some beans and then all of your topping options. Everyone loves tacos and if for some reason someone doesn't then they honestly don't belong at your Super Bowl party.
1. Chicken Wings: The gold standard and the original football watching food. Chicken wings are simply the best. A good hot wing is impossible to beat. For those afraid of the spice, toss up a few that are honey bbq or something. Put out some ranch and blue cheese dressing and your job is done. They'll stay hot and good in an aluminum foil tray over low heat, so shelf life is a non-issue.
Theme Time!
Say you want to go with a little theme action for this year's Super Bowl, as some do. Usually you pick a few foods representative of the two cities involved and the town hosting the game. For this year's game between New England and Atlanta in Houston, here are my suggestions for your themed main course.
Clam Chowder: If you want to break the bank, go lobster rolls, but the more cost effective option and one easier to cook for a large crowd is to go chowder. Some won't like it, but that's alright, there are other options.
Smoked Brisket Sliders: This ties in the Southern elements of both Houston and Atlanta, but leans mostly on Houston. If you've got a smoker and the patience this is a great option, you can slice it or chop it, get some King's Hawaiian rolls for buns and provide a couple of sauces. For those not blessed with a smoker, pulled pork is another less Texas-y option, but still very good.
Biscuits: I'm not going to tell you to try and make fried chicken or country fried steaks for everybody, which is what I think of when someone asks me what Atlanta cuisine is, so I'll just say make some biscuits for a nice side. Have hot sauce at the ready and let people go to work.