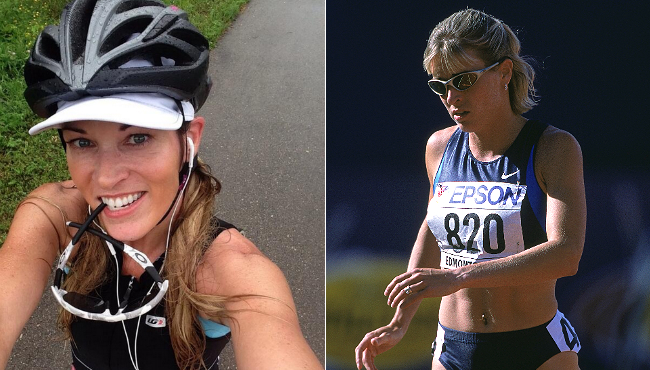 You might remember Suzy Favor Hamilton, a three-time Olympian as a middle-distance runner. She was America's sweetheart, a nine-time NCAA champ, a track and field star. But there was a darker side to Hamilton, one that was unearthed in 2012. For more than a year, Hamilton worked as a high-priced prostitute in Las Vegas using the name "Kelly Lundy."
Hamilton admitted as much on Twitter after she was outed by The Smoking Gun. She attributed much of her behavior to depression.
Fast-forward three years and Hamilton has come to grips with her time as an escort and has written a tell-all book (about her life) as a result. In an excerpt for Sports Illustrated, Hamilton talks about the fascinating details of a threesome with another prostitute and her husband.
I was giddy with endorphins from skydiving when we got back to our hotel room just after six o'clock. At exactly 7 p.m. there was a knock on our door. Our escort, Pearl, strolled in looking happy and relaxed, as if she'd known us forever. She was beautiful; there was a golden glow about her. She sat down close to me on the couch. "Is this your first time in Vegas?" she asked, flirtatiously indicating there was more to that question.

As Pearl moved things along in the bedroom, she seemed sweet and classy, and I felt myself connecting with her. I also felt closer to Mark than I had in a long time.
The most bizarre thing about Hamilton's story is her husband's role. Oftentimes, he had to cover for her and on at least one occasion drove her to meet a client. Upon dropping her off, Hamilton recounts, "I left my husband of more than 20 years and went to have sex with a stranger for money."
On her encounter with the CEO of a major corporation:
I flashed back to the luxurious penthouse suite where I'd spent the past two hours. It had been my first appointment with this handsome client, but I'd walked in and given him a kiss straightaway, letting my mouth linger on his. I wanted him to imagine I'd been aching to see him all day. I'd taken him to the bed, showing him that I was the one in charge. He'd liked it. Ceding control turned him on, in contrast to his daily life as the CEO of a major corporation.
Hamilton says she earned money "doing something she loved" and would look forward to future appointments. Her determination as a middle-distance runner morphed into a determination in the bedroom.
You can get Suzy Favor Hamilton's, Fast Girl: A Life Spent Running From Madness on Sept. 14.
(Via Sports Illustrated, Brobible)