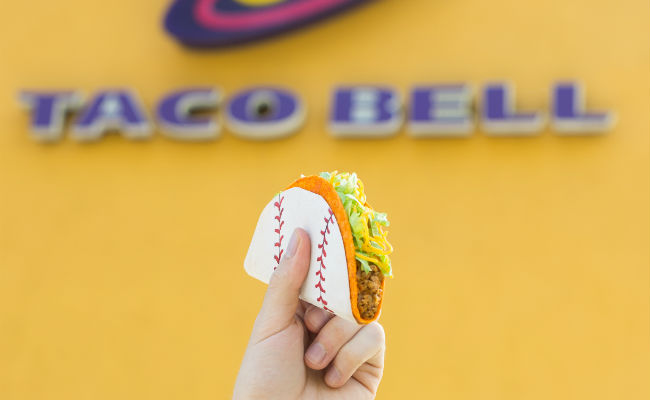 Taco Bell has made the most of the Fall Classic the last few years with a promotion that's almost guaranteed to give America a chance at a free taco from the fast food eatery. The 'Steal A Base, Steal A Taco' promotion is simple: if and baseball player steals a base during the World Series, Taco Bell gives away on a designated date.
There's little drama in the contest, really. The chances of a single stolen base happening in the 4 to 7 games of the World Series are extremely high. That's meant a lot of free tacos for America over the years, and that's why Taco Bell is doing something special for the 2018 version of the World Series promotion.
Taco Bell announced Monday that it would be adding a few wrinkles to the "Steal A Base, Steal A Taco" promotion, including a partnership with Topps to celebrate some of the heroes who have stolen tacos for the masses in years past. With the World Series slated to start on October 23, Taco Bell has announced details for when America will inevitably get its free tacos.
The date to mark in your phone's calendar is November 1 from 2 p.m. to 6 p.m. at participating Taco Bell stores. That's when everyone can get a free Doritos Locos taco while supplies last, of course. But this time Taco Bell has put together something fun to celebrate the teams in this year's World Series and those taco heroes who have come before them.
Taco Bell has made special Steal A Base, Steal A Taco hats available in its online store. It also partnered with Topps to honor "Taco Heroes," or players like Boston's Jacoby Ellsbury who gave America free tacos in 2007. A purchase of a hat at Taco Bell locations "around the ballparks hosting the World Series" will come with six Taco Hero cards made by Topps, as well as a seventh TOPPS NOW digital card that will become available online once the base is stolen in this year's World Series. Topps will have 24 hours to honor this year's Taco Hero, adding himself to an impressive list of speedsters that made Americans race to the nearest Taco Bell for free food.
Who will be immortalized in digital trading card glory? We won't know until the World Series actually gets underway. But there's clearly a lot at stake for America in these next few weeks.