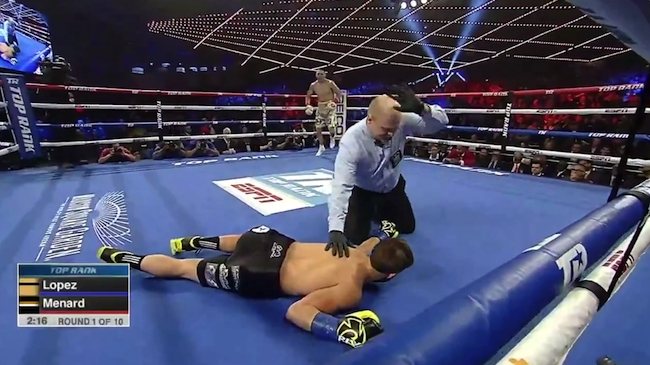 Part of the allure of boxing is the element of the unknown going into a fight. You might end up watching a full 8, 10, or 12 round bout or it could be over in a matter of seconds.
It's why boxers with spectacular knockout power and the threat of ending a fight early are so often among the most beloved. Mike Tyson is the gold standard for fighters capable of ending a bout in seconds or minutes, rather than rounds, and more recently fighters like Canelo Alvarez, Gennady Golovkin, Deontay Wilder, Sergey Kovalev, and Vasiliy Lomachenko have displayed that kind of awe-inspiring power that draws fans and ensures they arrive before the opening bell.
Lomachenko was in action on Saturday night on Top Rank Boxing on ESPN, but it was one of the undercard bouts that set the tone for the night early. Teofimo Lopez stepped into the ring with Mason Menard for a lightweight fight boasting an 10-0 record with eight knockouts, and quickly picked up his 11th win and ninth KO with 40 seconds of dominant boxing, knocking Menard out cold with a right hook.

It was clear from the start that Lopez was going to be the aggressor in the fight, but once he got Menard on the ropes and started unloading it felt like only a matter of time before Menard's night would be done. Sure enough, a few seconds later Lopez teed up a right hook that landed flush and left Menard knocked out on his feet, before falling face first onto the canvas as the ref immediately waived for the fight to be over.
It's not quite a Mike Tyson one-punch knockout, but it's pretty damn close. For boxing fans looking for a rising star capable of early fireworks, Lopez might be a name to remember in the lightweight division. Also, he seems to have quite the personality. After his backflip celebration, he threw on a Kyler Murray Oklahoma jersey and struck the Heisman pose, less than an hour after Murray won the Heisman.