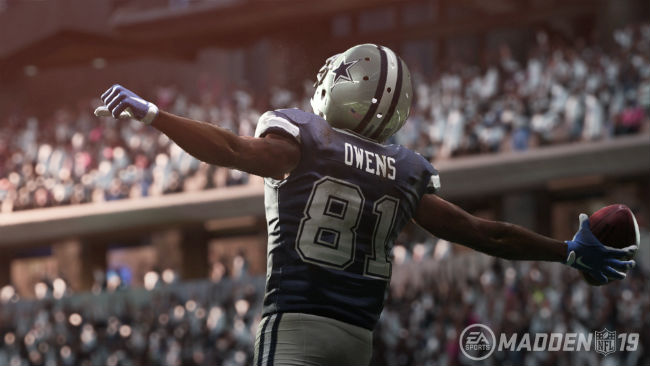 It's Madden season, gang. Or at the very least, it's time to get excited about who is on the cover of the annual football game's latest edition. The Madden NFL franchise now sports two distinct editions, and the Hall of Fame Edition's cover athlete comes first.
On Friday, Terrell Owens announced that he'd wear a Dallas Cowboys uniform once more on the cover of Madden NFL 19. That's right: One of the two star wide receivers in the 2018 Pro Football Hall of Fame class will be the cover athlete for the game, as he announced on Twitter on Friday.

The wideout played for the San Francisco 49ers, Philadelphia Eagles, Dallas Cowboys, Buffalo Bills and Cincinnati Bengals in his career, but as it turns out, he decided to grace the cover of Madden as a Cowboy. Later Friday, EA Sports revealed what the actual cover will look like, and fittingly it features Owens doing the signature T-pose he often took after scoring touchdowns throughout his career.
Preordering the game, scheduled to drop on August 10, gets you access three days early and gives you some other Madden Ultimate Team goodies, including an Elite Player from a team of your choice and five Gold Team Fantasy Packs to get your player collection started in the new Madden.