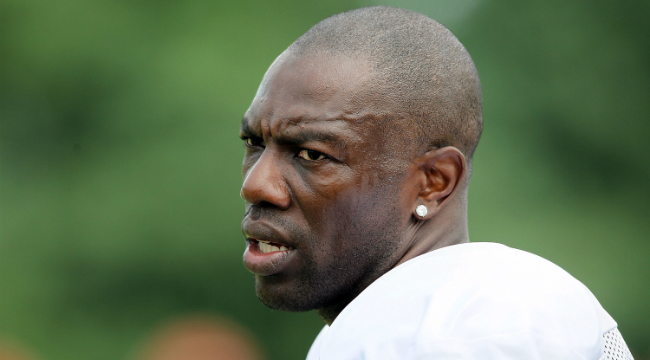 The NFL Hall of Fame isn't usually a huge source for controversy, but this year, plenty of people were up in arms over the exclusion of Terrell Owens. From a numbers perspective, it was shocking that Owens – who is unquestionably one of the best wide receivers ever – missed out on the Hall.
But one Hall of Fame voter gave us a look inside why Owens didn't get voted in for the second year in a row. Vic Carucci, a writer for The Buffalo News, walked us through his decision to vote "nay" on the six-time Pro Bowler.
Before we vote, Hall administrators admonish us to consider only what takes place within the confines of the field. But those white lines, as they acknowledge, can extend to the locker room and the meeting rooms and anywhere else that football-related activity takes place.

That is where Hall-of-Famers, such as Fouts, have their biggest issues with Owens. That is where the many other Hall-of-Famers with whom I spoke about all the finalists told me, to a man, they did not want Owens on their team.

I simply could not ignore that.
As you can guess, Carucci's entire piece basically follows this argument: yes, Owens was an excellent football player, but some people said they disliked him as a person, so for that reason, he cannot make it into the Hall of Fame. In the excerpt above, Carucci cites "Fouts," who as you can guess, means NFL Hall of Fame voter and former quarterback Dan Fouts.
According to Carucci, he and Fouts agreed that the biggest thing against Owens was the fact that the San Francisco 49ers, the Philadelphia Eagles, and the Dallas Cowboys were "all were willing to let him go" while he was in his prime. Essentially, he was a bad teammate, and therefore, he doesn't deserve a spot in Canton.
Owens, as you can guess, was rightly outraged that Carucci's argument against him was so flimsy.
Now, saying Steve Young was "discredited" is probably not Owens' best move, as the former Niners quarterback said that he should be in the Hall of Fame. But other than that, Owens is right that it is a bit irresponsible to put so much weight into hearsay. It's especially irresponsible because of this passage from Carucci.
He was a divisive force that the people who ran those teams had no problem cutting loose. I've heard critics say there were extenuating contractual circumstances behind Owens' departures, but I don't buy that for a second. If you want to keep a player, you find a way to keep him. The job security of coaches and GMs is far too tenuous to jeopardize by saying goodbye to a great player that can help you win. You don't make those moves unless there is something else that leads you to believe he is doing more to hurt than help.
Saying a logical counterpoint doesn't make sense because, essentially, you don't want it to is a bad way to support your claim. Sure, odds are Owens' attitude made it easier to part ways with him if it was as bad as Carucci is making it out to be, but as Pro Football Talk laid out, there were logical reasons for his departures from San Francisco, Philadelphia, and Dallas.
Owens is going to eventually make it into the Hall of Fame, in all likelihood, because he is one of the 3-5 best wide receivers to ever live. Hopefully once the group of people who will decide on the 2018 class assemble, they remember this above everything else.
(Via The Buffalo News)