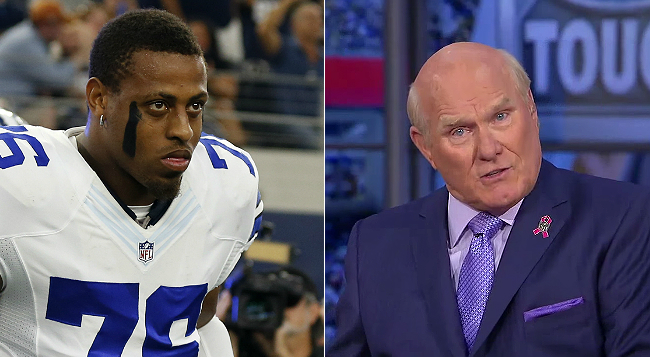 Without a doubt the biggest story from the NFL this week was Greg Hardy returning from his suspension to play with the Cowboys. Dallas was blown out by the Patriots 30-6, but Hardy played well, managing eight tackles and two sacks of Tom Brady.
However, Hardy's on the field talent was never the issue, it was his conviction on domestic violence, and his tone-deaf comments to the media to top it off. All week, pundits have been giving their thoughts on Hardy, and on Sunday, we heard from Jim Nantz and Phil Simms who debated Hardy while calling the Dallas-New England game.
Prior to the game, however, another NFL analyst chimed in with his thoughts: Super Bowl-winning quarterback Terry Bradshaw. When the topic of Hardy came up on Fox NFL Sunday, Bradshaw didn't hold back with his thoughts about Hardy's return to the league.
In an impassioned monologue, Bradshaw said that he believes no one convicted of domestic violence should be allowed to play in the NFL, and ripped Jerry Jones for bringing Hardy in just because he needs a pass rusher.
"Anybody, in my opinion, that lays a hand on a woman, I don't care who you are, my friend, you never come back in this league. But Dallas Cowboys owner Jerry Jones, in his desperation to get a pass rusher, said, 'Well, you know what, America? Cowboy fans? He's alright. He's a good boy. We're going to get him all straightened out over here and bring him in here.' Which he did.

"[Hardy] has his first news conference, he makes a fool of himself, and Jerry goes out and… basically becomes an enabler himself. This is wrong. We have no place for this, and I'm actually tired of talking about the Hardys of the world, and I really, really, seriously hope that eventually we never have a place in the NFL for people that touch a woman, strike a woman."
You can tell from the emotion he shows that this is no manufactured outrage from Bradshaw, and that he 100 percent believes in what he is saying. There are plenty who disagree and say that because his conviction was thrown out that Hardy has just as much right to play in the league as anyone else, but even they have to acknowledge that it is extremely uncomfortable watching Hardy tell the media that he wants to come out "guns blazing," and watching Jerry Jones trip over himself in interviews trying to defend him.
If Hardy can manage not to make anymore idiotic comments, the firestorm surrounding his return will die down in time, but there will always be those like Bradshaw who believe that Hardy should never have been allowed to return to the NFL once he was convicted in the first place.