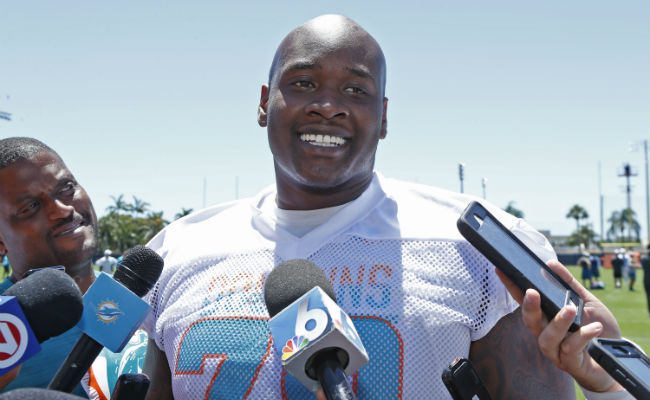 The Houston Texans turned heads on Saturday morning when they flipped Pro Bowl defensive end/outside linebacker Jadeveon Clowney to the Seattle Seahawks. But as it turns out, the Texans weren't done wheeling and dealing as they look to put together a roster before the 2019-20 NFL season kicks off next week.
According to Adam Schefter of ESPN, Houston agreed to a move with the Miami Dolphins to acquire offensive lineman Laremy Tunsil.
Texans are finalizing a trade for OT Laremy Tunsil, source tells ESPn.

— Adam Schefter (@AdamSchefter) August 31, 2019
Soon after, Ian Rapoport added some additional details that come with a move of this magnitude. The Texans will apparently pay a hefty price to acquire Tunsil — including a first round draft pick — but in addition to the standout offensive lineman, the team will bolster its receiving corps by adding Kenny Stills.

Blockbuster: The #Dolphins are trading franchise LT Laremy Tunsil and WR Kenny Stills to the #Texans in exchange for a huge package of picks, including a first-rounder, sources tell me, @MikeGarafolo, and @TomPelissero. The moves are contingent on players passing physicals.

— Ian Rapoport (@RapSheet) August 31, 2019
The full deal, via Mike Garafalo, is a pair of firsts and a second.
It's a huge price tag, but this addresses a few needs for Houston. Stills gives them a solid option to line up alongside DeAndre Hopkins, while Tunsil gives them one of the best offensive linemen in football. The former Ole Miss standout's name popped up as one that could potentially be moved, as he's in line for a monster payday before he hits free agency in 2021.
Most importantly, Tunsil gives the Texans the blind side protector it so desperately needed for Deshaun Watson. Again, they gave up a whole lot to make this trade happen, but Houston decided that this move was necessary to give them one of the league's best teams. We'll see if this, along with moving Clowney and some other moves they made on the day, helps them reach that goal.