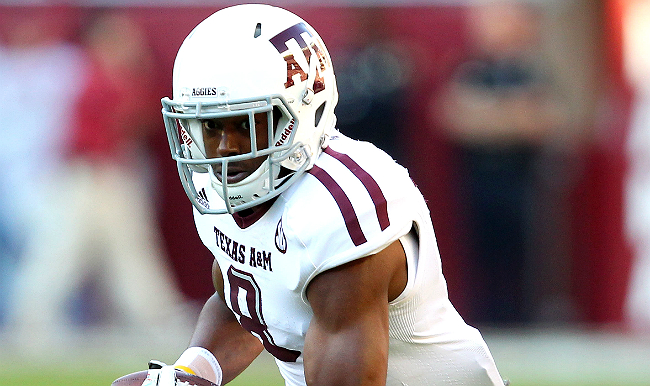 Former Texas A&M wide receiver Thomas Johnson admitted to hacking a random jogger to death early Monday morning. According to The Dallas Morning News, police say that Johnson was angry that he was out of football and homeless and decided to take out his rage on the unidentified jogger by using a "large bladed" knife to commit the murder.
"It appears Mr. Johnson picked this victim at random. Absolutely random," Deputy Chief Rob Sherwin said. "He just attacked him… It's just very unusual. It's quite shocking."
After he committed the murder, Johnson allegedly asked another man if he could use his cellphone to call 911, during which he told dispatchers that there was "a man laying down with a sword in his head and not moving."
A witness to the crime, identified only as Brandon, described to NBCDFW that he saw Johnson use a machete to kill the victim.
Brandon, who happened upon the alleged murder in progress, said he saw the man strike his victim six or seven times with the machete.

"As I get closer and closer I could tell it was a machete and there are repeated blows that are occurring. As I get closer, I could see what's being hit is a person, laying face down on the ground," Brandon said. "It was apparent to me by the time I got close that there was nothing that could be done for the person."
When officers arrived at the scene, Johnson admitted what he had done to the police.
Johnson, who had blood on his pants, told the officer, "I just committed capital murder," according to an arrest warrant affidavit. He repeated the sentence.

The officer asked what he meant. Police said Johnson replied, "It's like when you don't wake up."
Johnson last played on the Texas A&M football team in 2012, a season in which he had three catches in the Aggies upset win over No. 1 Alabama. After the game, Johnson mysteriously disappeared and left the team, never to play college football again.
Johnson has been charged with murder and he is currently in Dallas County Jail in lieu of $500,000 bail.
(Via The Dallas Morning News, NBCDFW)