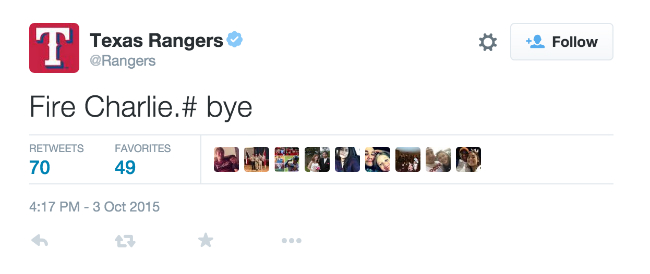 UPDATE: The Texas Rangers released a statement explaining what happened with the tweet calling for Charlie Strong's job. According to the statement, someone in the Rangers' social media department who had the day off published the tweet, and that person is no longer employed by the team.
* * *
The Charlie Strong era at Texas hasn't gone very well. The Longhorns have struggled so far under Strong, and apparently an employee with the Texas Rangers has had enough.
In a tweet that has since been deleted, someone with the Rangers sent out a simple tweet with a clear message in the middle of the team's game against the Los Angeles Angels: the Longhorns need to move on from their second-year head coach. Of course, the tweet was almost certainly an accident and was up for no more than a minute before it was taken down.
It's been a weird day on social media regarding Longhorns football. During halftime of Texas' game against TCU, one Longhorns player retweeted a tweet from a Texas A&M fan asking him to transfer and become an Aggie.