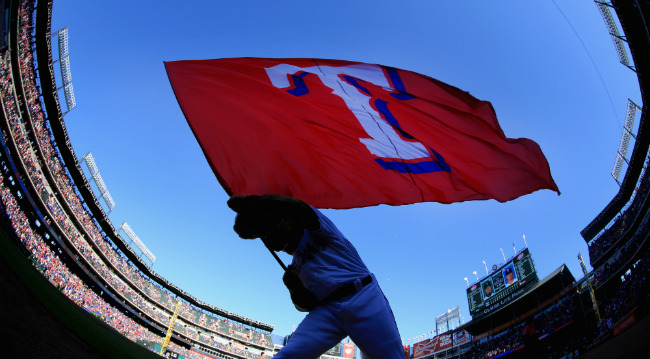 There may be some trouble brewing in the Texas Rangers' farm system. According to Jeff Passan of Yahoo! Sports, eight prospects were interviewed by police in the Dominican Republic for an incident in which a new player to the team was sexually assaulted.
Passan reported that the plan is to "charge at least four players who held down a teammate and masturbated him." The details of the incident are disturbing and not safe for work.
Video of the alleged assault, which took place toward the end of October, was captured and posted on Snapchat, according to sources. A 10-second clip of video, obtained by Yahoo Sports, shows the alleged victim in a Rangers shirt and Rangers shorts laying on a bed with his arms held behind his back and his legs pinned down. At least four men are seen in addition to the alleged victim, whose penis is exposed, grabbed and maneuvered underneath a hand towel. All of the men in the video, including the alleged victim, are seen laughing.

The alleged assault was one of a number of hazing incidents of Venezuelan and Colombian players, some of whom were younger than 18, according to sources. More tenured players shaved the head of at least one new player and forced at least one other to take his clothes off, and sources said police are investigating at least one more allegation of forced masturbation.
These will be written off by some as hazing. That would be selling this short: it's sexual assault. Hazing is a veteran player having a young dude carry his bags or making rookies do karaoke in front of fans. This is so much worse than that, and calling it anything other than "sexual assault" is a disservice to the players who were assaulted.
The Rangers announced in a statement that they have opened an investigation into this incident and are cooperating with Major League Baseball and police in the Dominican Republic.
(Via Yahoo Sports)