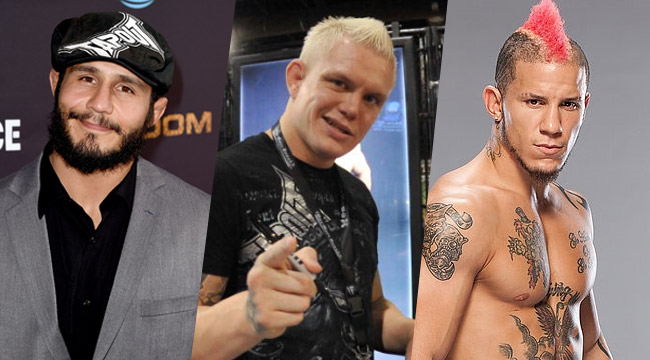 The long running UFC reality show The Ultimate Fighter may be on its last legs, but if rumors the show is about to end are true, it's going out with a bang. The 25th season has been dubbed the 'All-Star' season by the MMA media, and now a partial list of the cast has been revealed. While it's certainly not all major UFC stars, a good number of stars from past seasons of The Ultimate Fighter do indeed show up, including Joe Stevenson and Junie Browning.
Here's the list of fighters who showed up at tryouts last week: Ramsey Nijem, Jesse Taylor, Joe Stevenson, Julian Lane, Dhiego Lima, James Krause, Zak Cummings, Mehdi Baghdad, Gerald Harris, Junie Browning, Seth Baczynski, Michael Ricci, Johnny Nunez, Dominic Waters, Gilbert Smith, Edward Gordon, Kajan Johnson, Justin Edwards, Jamie Yager, Hector Cervantes, Edward Ellis, Hayden Hassan, and Thomas Gallicchio.
There's some interesting stories and troubled pasts being brought back for another twirl this season. Jesse Taylor has the dubious distinction of being the only fighter removed from the finals after going on a drunken bender through several Las Vegas casinos. There's also Julian Lane of 'Let me bang, bro' fame, and Junie Browning, one of the craziest cast members ever featured on the show.
Former TUF fighters being brought back into the UFC include The Ultimate Fighter 2 winner Joe Stevenson, TUF 19 winner Eddie Gordon, Gerald Harris, Mike Ricci, Ramsey Nijem, and Jamie Yager.
There's several guys yanked straight from the UFC roster as well. James Krause, Zak Cummings, and Kajan Johnson are all guys coming into the show with win streaks against legit UFC competition. They're the ringers to watch for the season, in case none of the other guys called up manage to bring their A game.
Looking at the line-up, it's an interesting collection of fighters that reminds us more of the 'Comeback' season than an 'All-Stars' season. Still, the names involved are just interesting enough to make us go back and give the show another shot. Especially considering this may be the last season ever.