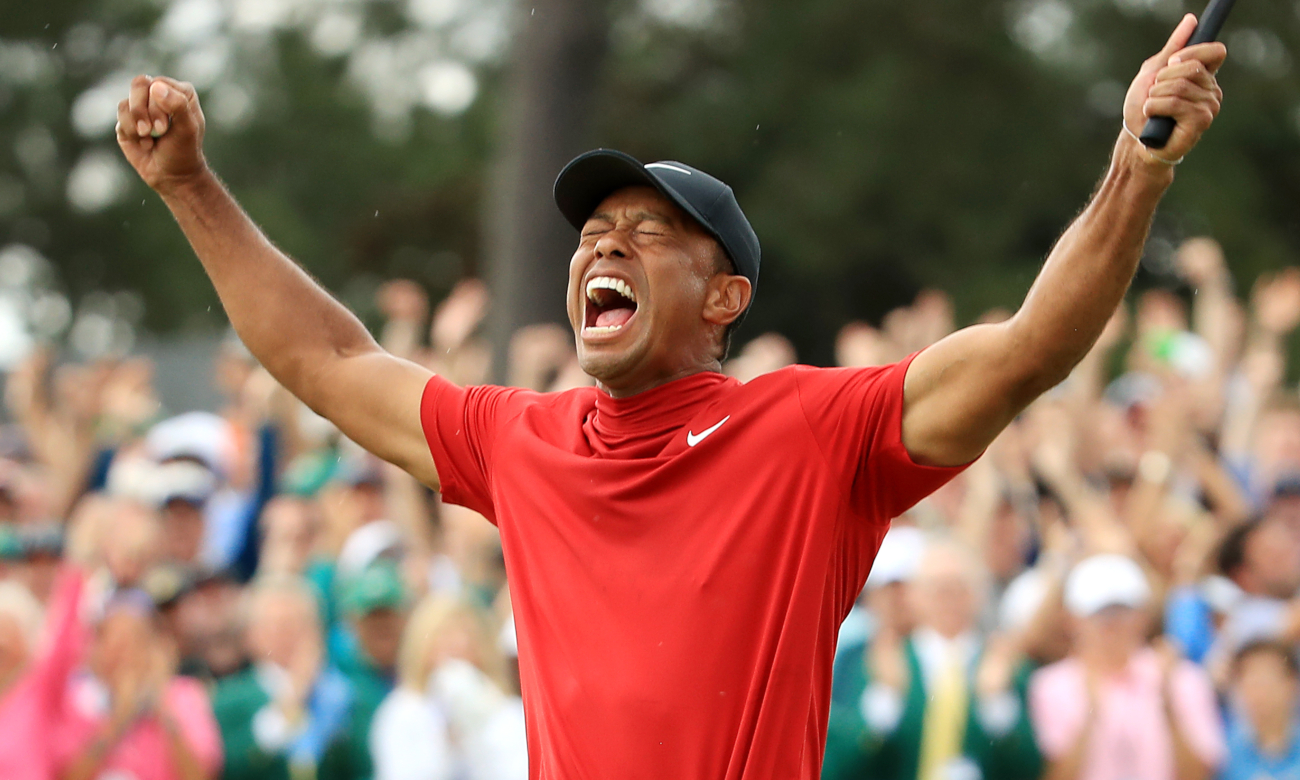 For the last decade, Tiger Woods has been seeking his 15th major championship win. There were knee injuries and the very famous collapse of his personal life through his own doing, but he still lingered close to the top through 2013, when he won five events that year.
Once back trouble became the norm for Woods, however, many thought he had met the fate of so many golfers. Back injuries are often the end of a pro golfer's peak, the thing that lingers and flares up over the course of a four-day event and keeps them from ever finding that sustained form again. At its worst, Woods' back injury threatened to end his career in total, and even the most optimistic of Tiger fans had to question if we'd ever see him contend again.
It's hard to overstate Tiger's impact on the game of golf. An entire generation of young golfers were inspired by him, myself included. He was something golf had never seen, with a combination of skills no one had ever possessed. He could overpower a course off the tee. He had the finesse with irons to shape shots in every direction and control trajectory better than anyone ever had. His touch around the greens was matched by few, and at his peak he was the best putter in the world.
There were no holes in his game. He knew it and so did everyone else, which might have been his greatest strength. Tiger always had the mental edge on his competition. His mere presence at the top of the leaderboard would lead his competitors to wilt. At his peak, he won tournaments by margins that were previously unthinkable, and did it with a flair and bravado rarely seen on the course. He made athletes want to be golfers and made golfers become athletes to keep up.
His impact is visible on Tour, with the current crop of stars that play the game with the same style he once had. The typical golfer no longer looks like a somewhat overweight dad. There are guys that would look just as fitting in football pads as they do on the course. Players that grew up watching Tiger try to execute the way he did and take the same aggressive lines off the tee and into greens. Even when Tiger was out, watching the Tour gave you glimpses of his game because the best players under 35 all had, at one time, wanted to be Tiger and had their games shaped by him.
Watching Rory McIlroy bludgeon Congressional in 2011 gave off Tiger vibes, as did Jason Day setting a record for score to par at Whistling Straits in 2015. It still wasn't quite the same as the buzz created by a big Sunday, however, with Tiger on the prowl. For a while many of us felt we'd never get it again and, for the most part, had come to terms with that.

Golf was in great hands without Tiger thanks to Woods' influence, but like any great career that ends prematurely, there's always been a feeling we were robbed. Golf is the rare sport where careers can last three decades and we can see the legends battle the generation they influenced. We were supposed to get that chance with Tiger, but for five plus years it felt like we weren't getting the duels we were once promised.
Then last year, Woods came back after a back fusion surgery and looked an awful lot like the Tiger of old. He was close a few times, most notably in the Open when he had a share of the lead going to the back nine on Sunday before Francesco Molinari stared him down to win in the same group. Suddenly, it felt like we were getting our wish of seeing the best of today stare down the best ever in a true fair fight, but we're all greedy. We wanted one more ride with Woods to a big win.
He gave us a taste at the Tour Championship, walking up the 18th like the pied piper with thousands following him. Then on Sunday at Augusta National, he delivered the moment many of us never thought we'd see again.
Woods entered the final round two back, with everyone knowing the stat that he'd never won a major when trailing after 54 holes. He was surrounded on the leaderboard by many of the game's great young stars that idolized him growing up and now got to go toe-to-toe with him. Once again, Molinari was there in his group and, for the first 11 holes, it looked like he again would march through Tiger-mania to a win.
Then he blinked. A ball in the water on the par-3 12th, where so many Masters dreams have died, opened the door for Tiger and the rest of the field. This was where Woods had once been the best ever, capitalizing on the mistakes of his opponents, and for the final seven holes on Sunday, that's exactly what Tiger did.
He made par on 12 as his playing partners both double bogeyed from the water to tie for the lead. The echoes had been awakened. On 13, despite his foot slipping, he pumped a drive to 161 yards into the par-5, leading to a birdie to match Molinari. On 15, he was given another opening as Molinari again found the water short of the par-5 with his third, with Woods firing a long iron into the center of the green in two. A two-putt birdie gave him the lead alone in the final group heading to the 16th tee.

This was the site of his greatest triumph. The chip in from the left side of the green that yielded that most famous call in golf from Verne Lundquist: "In your life have you seen anything like that!" No one knows the slope of the 16th better than Woods. In his prime, no one could hit his spots in a pressure moment better than Tiger. This was 2019, though, and he hadn't found himself in that position in years. The question lingered: Could he put this away?
The answer?
In. Your. Life.
A near ace on 16, which might've led to the destruction of Augusta National by patrons caught up in the pandemonium, was an iconic moment for this version of Tiger Woods.
Tiger Woods in 2019 isn't 2005 Tiger. He can't overpower the field with distance or force them to wilt under the pressure he creates. They believe they're as good as Tiger, partially because they grew up learning to play like him and partially because they haven't had him steamroll them on a course like his competitors of the past. His goal on Sunday wasn't to attack pins and burn the course to the ground with an attempt at a 63. He instead wanted to keep himself in contention and take advantage of opportunities when they presented themselves. He did that and against a generation of golfers groomed to be in attack mode at all times — it's possible patience and guile is the answer for current Tiger to beating the monster he created.
While much less memorable than the tee shot on 16, the moment I finally allowed myself to know completely that he would to don a fifth green jacket was the tee shot on 17. The driver has been his greatest weakness during his comeback, and putting that club in his hands needing a fairway terrified me. Naturally, he piped a fade down the center, an emphatic statement that he could still calm any nerves when needed.
After Brooks Koepka saw his birdie effort slide by on the low side on 18, Woods could finally breathe and soak it in. He only needed to chip up and get down in two putts after coming up short and right of the green in two to win the green jacket. There was an air of relief around the 18th green and on couches and in bars around America. The fear of being teased only for him to lose in a playoff had been stripped away and instead everyone, including Tiger, could soak in a moment more than a decade in the making.
Woods did, indeed, get up and down in thee strokes, nearly holing a par putt to put an exclamation point on the win. But it wasn't necessary, and when he cleaned up for bogey and the win, he let out a primal scream. A decade's worth of emotions pouring out in that moment. Patrons around the greens and fans around the world offered similar emotion at home, a rarity for the end of a golfing event.
Golf fans have their favorites, but it's usually in that form, multiple. Unlike team sports where fans are diehards of one squad, most golf fans have a group of players they root for. That's the nature of golf and what keeps fans dialed in on tournaments even when the guy they might like the most is out of the running.

Tiger Woods is the exception. He's the one that brings out emotion from supporters unlike anyone else, and in that moment on Sunday we got to experience something that seemed impossible just two years ago.
As Woods picked up his son Charlie, wrapping him in a full embrace not unlike the one Earl Woods gave his precocious teenage son in 1997 after his first major win, the emotions flowed out of me. I sat in my recliner as tears flowed down my face, an unfamiliar feeling for someone that's worked fairly hard to distance myself from most affiliations in sports.
Since starting in this business, I've tried to become an agnostic in the NBA and college football, given that's where most of my work has been. I long ago moved on from the Braves, and my only real connection to a team has, sadly, been the Cleveland Browns, who have deadened my feelings toward them over the past two decades. On Sunday, however, I came to a realization.
The Browns aren't my favorite sports team. Tiger Woods is. He's the reason I play the sport. He's the one that's given me the best memories in my years as a sports fan growing up. He's the one that can still evoke emotions no other sports or team or player can from me. I'm sure I'm far from alone on that, and those feelings crept up on a number of unsuspecting viewers on Sunday.
They were welcome tears, though. Tears that signaled something long thought lost was back.