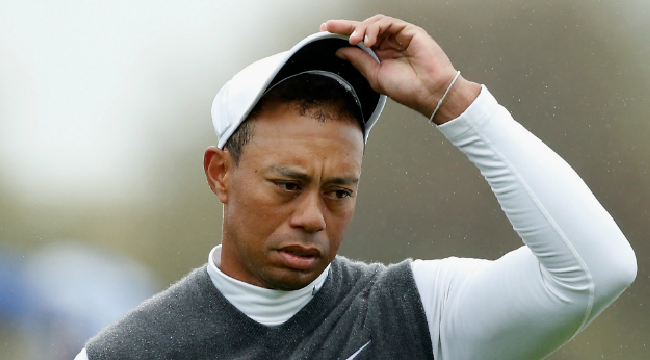 Tiger Woods may have hit rock bottom. The former best golfer in the world missed the cut at the U.S. Open by 11 shots, as he shot a +16 and will finish the tournament in 150th place out of 156 golfers. He also turned his golf club into a projectile, which may have been the most bizarre moment of his entire tournament. Digging even deeper, Woods still hasn't won a major since 2008, and he hasn't recorded a professional win since August of 2013.
Basically, things aren't exactly going well for Ol' Eldrick right about now. While there's no telling what Woods is going through physically and mentally, his former coach thinks he has an idea. Butch Harmon – who was Tiger's coach from 1993 until 2004 and currently works as an analyst for Sky Sports – believes that his former student "looks like a lost soul out there":
"It's tough to watch," said Sky Sports analyst Harmon, who coached Woods to the first eight of his 14 major titles. "We were trying to think what we could compare it to and my son Claude had the best analogy. It's like going to Wimbledon and watching Roger Federer not be able to hit the ball over the net.

"It's kind of sad to be honest with you. I am not sure any of us has the answer. He looks like a lost soul out there. We hope he would go home and take some time off and don't come back until you are 100 per cent ready to play.
Harmon thinks one issue is the tournaments that Woods decides to play. He pointed out that Woods skips out on a ton of events, and when he does decide to play, it's at a bigger tournament at a more difficult course.
Woods certainly seems like he wants to figure out whatever's wrong with his game and bounce back in a big way, but after this weekend, you have to wonder how long that will take, or if it will ever happen.
(Via Sky Sports)