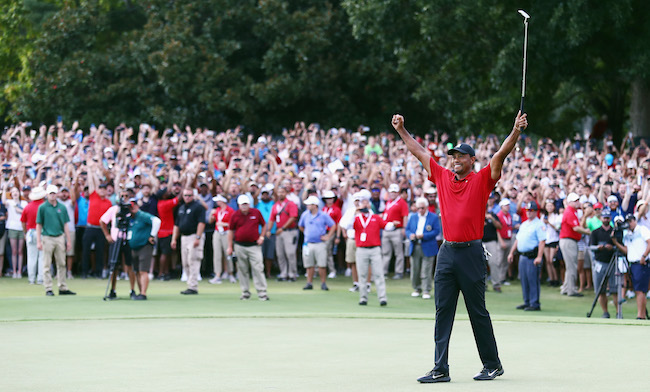 Tiger Woods entered Sunday at East Lake with a three shot lead over Justin Rose and Rory McIlroy. A decade ago, the end result would've been a foregone conclusion, but in 2018, five years since his last victory, there was a question of whether Tiger still had that extra gear — and if the field still had that same fear.
Woods answered any questions about his nerves very quickly, with an absolutely perfect opening hole. He piped a driver down the center of the fairway, fired an iron directly at the pin for the closest approach of the day at No. 1, and poured in the putt for a birdie and an emphatic statement.

That hole put significant pressure on McIlroy, paired with Woods, and Rose, in the group ahead but well within earshot of the massive roars coming from behind him. Both players were keenly aware of how dialed in Woods was, with Rory getting a view of it on that first hole and Rose having witnessed a full day of it on Saturday during Woods' 65, and neither were able to match Woods' play on Sunday. McIlroy made three bogeys and a double bogey, with just one birdie, on the front nine to bow out of contention before they got to the turn.
Rose likewise couldn't mount anything close to a charge on Woods, making just one birdie on his round and slowly backing his way down the leaderboard with four bogeys. Meanwhile, Woods plodded ahead with a steady confidence that we haven't seen in some time. This wasn't a man that looked like he was 12 months removed from not even being able to hit full golf shots. This was the Tiger of old, in full command of his game and of the course, smartly working his way around East Lake to avoid danger and big numbers.
Thursday and Saturday were his two best rounds, posting 5-under 65s in both and holding an absolute exhibition of ball-striking and putting. Sunday wasn't Woods trying to hit the throttle and win by a dozen — this isn't 2002 — but instead was someone who clearly knew his strengths and played to them. The driver swing was smooth and under control, happy to let McIlroy bomb it past him in order to hit fairways and keep disaster out of play.
The iron play was impressive as it was all week. He was pickier about what pins he fired at, often opting to play for the center of the green, but when he did have a wedge in hand, he could still put the pedal down and attack.

However, down the stretch things started to unravel a bit. His tee shot on the long par-3 15th was wavy and pushed, but narrowly avoided the water thanks to the thick bermuda rough that held it up on the bank. He made bogey there and then tugged his tee shot left on 16, forcing him to hack the ball up to the fairway for a wedge in that flew a bit too far, leading to another bogey.
His tee shot on the 17th was again a 3-wood pulled to the left, as his lead had dwindled to just two shots over Billy Horschel, who posted 9-under with a 66 a few groups ahead of Woods. There was a palpable concern in the air at East Lake, as fans feared they may be watching an epic collapse. However, Woods launched a wedge out of the rough from 113 out to the back rough, leaving plenty of room for him to get up-and-down, and cooly made a 4-footer for par to take his two shot lead to 18.
That seemed to right the ship and calm the nerves, because he pulled driver on the par-5 18th, sending one down the right side of the fairway with a 308-yard carry to all but cement his win.
As Woods strolled down the fairway, the gallery poured out of the ropes and into the fairway behind him in an unbelievable scene in Atlanta that continued all the way to the green after his approach found the greenside bunker.

Chants of "Ti-ger" rattled around the 18th after his bunker shot rolled up to seven feet away. McIlroy cleaned up for a birdie and set the stage for Woods to complete his redemption story and notch win No. 80 of his career.
Woods' week at East Lake was the culmination of years of questions, not only about whether he could win again, but if he'd ever be able to play golf again. This year has been a steady build, from playing a full tournament, to getting himself into top 10s, to competing at majors, but all throughout the one question that remained was whether he had it in him to put together a full four round performance to win.
Tiger had been close. He held a share of the lead at the Open Championship heading into the back nine, only to see his playing partner Francesco Molinari walk away with the Claret Jug. He was there again late at the PGA Championship, but that time started from too far back on Sunday. He put new putters in the bag to try and find something, but ultimately went back to his trusty Scotty Cameron. The one that won him all those majors, and this weekend, won him another Tour Championship.
His Sunday at East Lake wasn't perfect, but it was what he needed. A steady march around the course for a 1-over 71, winning by two and never truly leaving any doubt, just like the old days.