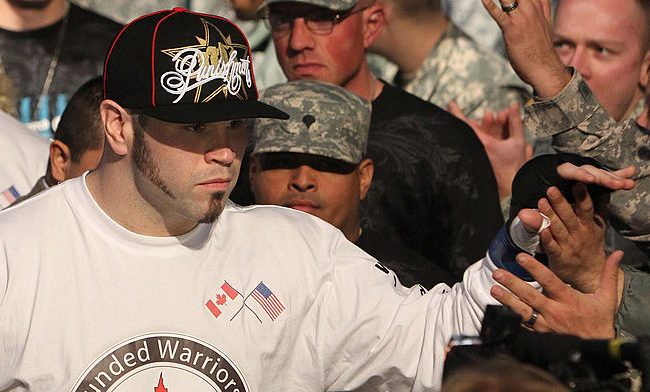 Update: Tim Hague's family announced today that the fighter passed away after being in a coma for most of yesterday before being declared brain dead. This is a horrible, tragic event and our thoughts are with them.
The MMA world is in shock after learning former UFC fighter Tim Hague suffered a severe injury following a knockout loss in a boxing match in Edmonton. The fighter was initially reported as having passed earlier in the day, but his sister has updated friends and fans through social media saying that he is in critical condition. Some reports are stating he is brain dead.
Amidst the outpouring of support for the 33-year-old father of one, there are questions directed towards the competency of the Athletic Commission that put this fight in place.
After being knocked out multiple times in the last two years, Hague was still booked for the match against Adam Braidwood. He was knocked down twice in the first round and looked increasing confused after the second knockdown, even shooting for a takedown in a boxing match.
As the match against Braidwood continued, Hague would make it to his feet but would be stumbled multiple times (even touching his gloves to the canvas for a technical knockdown) before ultimately being knocked out. The referee and commission could be seen working on him almost immediately, and Hague would get up to the stool so the doctors could check him as Braidwood had his hand raised. You can even see Hague make his way out of the ring with some help from the ringside crew.
When the fighter got backstage, teammates knew something was wrong:
Many are calling out the Canadian boxing commission that cleared him to fight. Hague has a string of knockout losses in recent years and was fighting a strong up and coming boxer. He didn't need any additional head trauma:
Those who knew the fighter are sharing thoughts and stories about the gentle giant on Twitter.

Hague was known for his hard-hitting style and was well-known in Canada following his perfect championship run in King of the Cage. His UFC run was up and down, most famously suffering a knockout at the hands of Todd Duffee in a then-fastest in history 7-second KO.
This dark day reminds fighters and fans how dangerous combat sports and especially accumulated head trauma can be. Tim Hague may not've been the biggest UFC star in the world, but this reverberates throughout the industry. It is unfortunate and could have been avoided with due diligence, even if it meant protecting a fighter from himself.