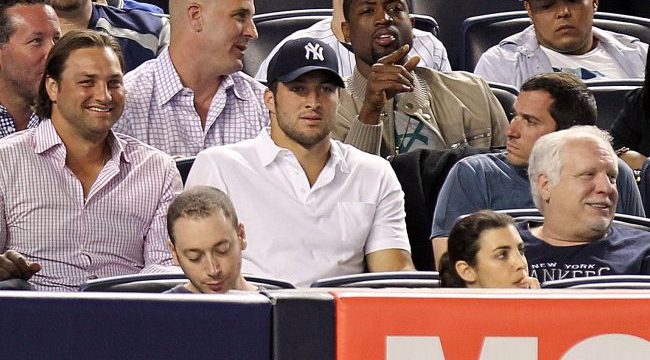 Just when you thought there were no more jokes to make about Tim Tebow, the heavens parted, reached down and touched us with a miracle Tuesday morning. At the age of 28, Tebow reportedly wants to become an MLB player.
All 30 Major League Baseball teams will be invited to Tebow's workout at the end of the month, an event he has been preparing for over the past year. Those who have seen Tebow hit have been surprised he picked up the sport so quickly after not playing it since he graduated high school in 2005.
Tebow hasn't played competitive baseball since he was a high school junior. He chose to dedicate himself to football because he loved the sport more than baseball; although, he was nearly a draft pick of the Los Angeles Angels, who play in Anaheim.
Was Tebow a legitimate Major League Baseball prospect? He didn't play as a senior, but Tebow hit .494 as a junior while leading Nease High School to the final four of the Florida state playoffs, earning all-state honors along the way.

"I believe he could have played in the big leagues," said Nease coach Greg "Boo" Mullins, who called Tebow a "six-tool player" and a potential Round 7 to 12 draft pick.
That sixth tool? You guessed it: The power of The Lord.
"He had a strong arm and had a lot of power," said Red Sox Florida scout Stephen Hargett, who with the Angels. "He had leverage to his swing. He had some natural loft. He had some good power. He was a good athlete. He had enough arm for that position. He was a left-handed hitter with strength and some size. He stood out. He was bigger and stronger than everybody. … It was just easy for him. You thought, if this guy dedicated everything to baseball like he did to football, how good could be be?"
Now we are left to wonder — just how bad can Tebow be at two professional sports? He hasn't played baseball in more than a decade, so the only way this is leading to an MLB career is if it's a publicity stunt. He's training to be an outfielder, which makes sense, because of his running ability. But what happens when he has to throw the ball to a base? If there's a play at the plate, he could legitimately kill a fan sitting along the first-base line with an errant throw.