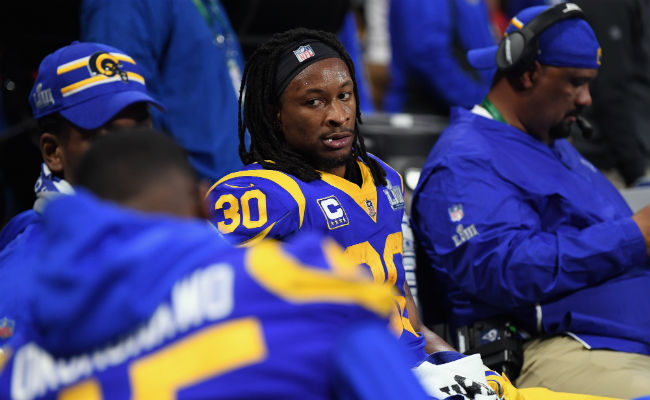 Of the many lingering questions remaining from the miserable slog that was Super Bowl 54, what was wrong with Todd Gurley is at the top of the list. Whether Jared Goff got Monstar'd is certainly high on the list, too, but it seemed like a tangible explanation for Gurley's postseason struggles could be found: he was hurt.
Gurley missed the last two games of the regular season and saw extremely limited time on the field throughout the playoffs. He just didn't look right out there, and no one had any idea if he was hurt, in Sean McVay's doghouse, or something else.
And now, a month after the Rams' Super Bowl loss to New England, we know a bit more about just was wrong with Gurley. On Saturday, Jeff Howe of The Athletic reported that Gurley is dealing with arthritis in the same knee where he suffered an ACL injury in college.
Aside from this report, McVay, attending the NFL Draft Combine, was asked if stem cells were something the team was looking at using for Gurley's knee. While the coach did not provide specifics, he said the organization expects him to be ready to play again this fall.
"We're going to implement a plan to have him attack it to get that knee back to feeling full strength, feeling good based on just the amount of work that he's gotten," McVay told CBS Sports on Friday. "That would be no different whether he missed any games or not, though."
What's clear is that the Rams, though they might not want to say it, are beginning to worry that Gurley isn't getting better. If Gurley does, indeed, have an arthritic knee, there's good reason to be concerned.