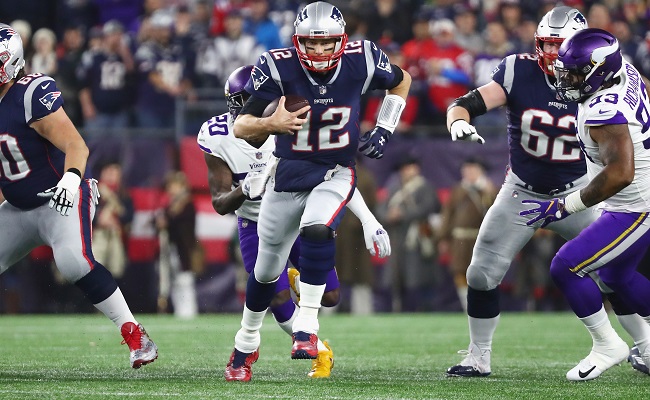 Tom Brady added another accomplishment to his already impressive resume on Sunday. In the Patriots 24-10 victory over the Vikings, Brady managed to snag enough yards to finally reach 1000 career rushing yards. The usually statuesque Brady isn't known for using his legs very often, aside from dancing in the pocket, so it shouldn't be too shocking that it took him 19 years to reach that mark.
Of course, Brady knew that he had finally eclipsed the mark. He even joked about the record on Instagram last May. So when he finally achieved the mark there was no way he was going to risk a rush play or something that could potentially send him backward. That includes kneel downs at the end of the game.

Yep, Brady took a step forward to make sure he didn't lose any rush yards on the kneel down. This is a level of stat stuffing that should not only be respected but celebrated. All players are aware of their stats. They know how close they are to records and milestones. That Brady was so serious about making sure he not only reached 1000 yards but keeping it is the most professional athlete thing ever.
The question now though is what if Brady is in a situation where the game is on the line and Bill Belichick calls a QB draw on 4th and 3? Will he run it, or will he call the audible to hold on to his record? In reality, he would run the play or make the correct audible because athletes care about winning more than stats, but the potential idea of him not doing that is way more appealing.