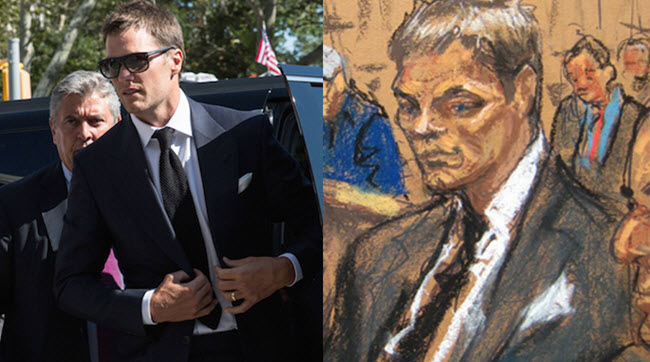 Earlier today, a courtroom sketch of New England Patriots quarterback Tom Brady, who was in New York for a Deflategate hearing, was released. And, because the internet runs with everything, the sketch was made into the meme of the day.
The memes are funny because the internet, for all its faults, is pretty good at firing back something witty with a quickness. What we don't always consider, though, is that it's usually at the expense of someone. In this case, it was sketch artist Jane Rosenberg.
In an interview with Vice Sports, Rosenberg "seemed a bit flustered" and was apologetic to Brady about the drawing. When asked if she had seen any of the responses to the sketch, Rosenberg said:
Well I haven't seen any. People are emailing me and calling me and trying to interview me. I don't do Twitter or Facebook so social media is not my thing. But obviously it's gone viral. Some people are like sending me snippets though––things, complaints, that I made him look like Lurch or whatever. Tell Tom Brady, I'm sorry. He's a very good looking guy and if I didn't make him look good enough, I'll try harder next time.
Rosenberg also detailed what her job is like on a daily basis, as well as the pressure that comes with drawing high-profile individuals quickly and accurately. When asked if she's bothered by the memes, Rosenberg said:
Does it bother me, people making fun of me? I don't know. It hasn't sunk in yet. I might be very depressed. I'm my biggest critic, myself. So I feel terrible when I do a bad sketch. So when the whole world is criticizing me, I might just kill myself. Or I might just laugh it off. Who knows?
How serious she is can't be told by text alone, but that's an eye-opening line all the same. Rosenberg says she's not on social media, so it's easy to see why this would feel like one big inside joke. Additionally, the questioning from Vice is on the pushy side about how it must feel to be the butt of the joke.
Surely, nobody was malicious in making fun of Rosenberg's drawing, but everyone has sub-par moments (even us), and the internet is pretty unforgiving when it happens. At least this time we get to hear from the person on the other end.
(Via Vice Sports)