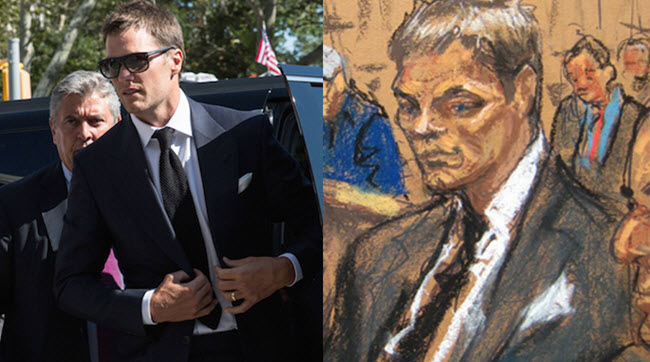 The courtroom sketch of New England Patriots quarterback Tom Brady that launched a thousand Internet memes is now an in-demand piece of art. Whether sketch artist Jane Rosenberg is willing to part with Deflategate's version of the Mona Lisa remains to be seen, however. In an interview with the New York Daily News, Rosenberg said she's "received about 20 offers" to buy the drawing:
The Sports Museum in Boston has also asked if Rosenberg would loan the Brady sketch for a month, along with some of her drawings during the trial of Boston Marathon bomber Dzhokhar Tsarnaev, she said.

Rosenberg, still overwhelmed with media attention and emails from supporters and nasty critics, is unsure what to do.

"I have not decided I'm going to do with it," she said. "I don't have a clue what it's truly worth. This isn't a normal sketch I'm selling to some assistant U.S. Attorney. It might be a different arena entirely – sports memorabilia."
Rosenberg nor the Daily News specified what the sketch may be worth. In an interview with Vice Sports last week, Rosenberg was apologetic for the drawing, which was, light-heartedly or not, lambasted over social media. On one hand, it'd be nice if Rosenberg made some money off of it, no matter how much. On the other, judging by her comments, there's probably nothing more she'd like to do than move on from this whole thing.
(Via the New York Daily News)