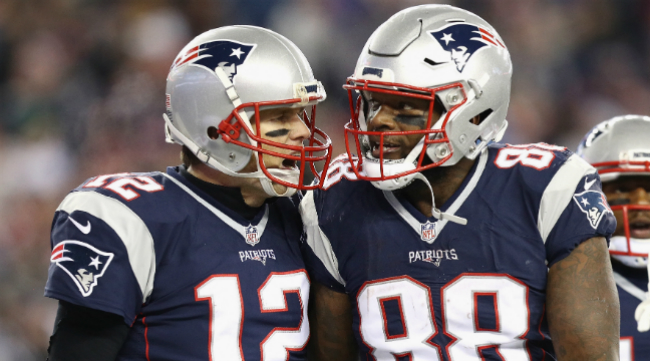 There may not be two more different people in a single NFL locker room than Tom Brady and Martellus Bennett. Brady is famously tight-lipped and is probably a supporter of Donald Trump (he's never clarified, but there's no reason to believe he's not a fan of the President). Bennett, meanwhile, has never held back an opinion in his life, and as we learned on Monday, he's not a big Trump guy.
During Super Bowl Opening Night, Bennett was asked whether he'd take the ceremonial trip to the White House of the Patriots win the Super Bowl. Bennett backed up what Jalen Rose said about athletes visiting the White House – they won't do it because of Trump.
Brady, meanwhile, took a much different approach to a question about Trump. The Patriots' signal caller was reportedly asked about Trump, but instead of answering, decided to go with an all-time sidestep.

This is definitely a strange way to handle a question about the leader of the free world, although it isn't a surprise, as Brady has seemed to get joy out of avoiding any and all questions about POTUS. Trump, meanwhile, has made it sound like he's kept in touch with Brady and that the Patriots' quarterback actively supports him.
Obviously, Brady is allowed to respond to questions about his relationship with Trump however he wants, as is his right. Plus in a way it'd be kind of weird for Brady to be so forthcoming about something in his personal life. But man, Brady's constant maneuvers to avoid Trump-related questions are such a weird look.