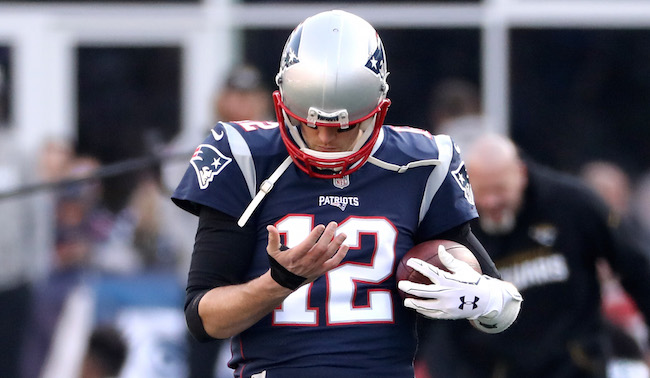 The Patriots and Jaguars will kickoff the AFC Championship game at 3:05 p.m. ET in Foxborough, but an hour before kick all eyes were on No. 12 in blue in warmups.
Tom Brady suffered a right hand injury during practice this week, although up until Sunday details about Brady's injury were scarce. All we knew was that Brady's throwing hand was injured to some degree after a teammate ran into the star quarterback. This led to Brady not meeting with the media towards the end of the week and the severity of the injury was a mystery, as Brady was spotted wearing gloves on both hands at all times prior to the game, even in CBS' production meeting.

However, as we neared kickoff on Sunday, reports began trickling in about Brady's injury. Albert Breer of SI reported Brady suffered a sprained ligament in his thumb, but was throwing well, and Mike Reiss of ESPN reported he required more than 10 stitches on a cut near his thumb, which Tom Curran of NBC Sports Boston confirmed saying he needed a dozen.

All of that set the scene for Brady to take the field on Sunday afternoon with no glove on his right hand and only some black tape around the base of his thumb and hand. The future Hall of Famer let some passes rip without the glove while Jim Nantz and Tony Romo offered commentary.

Brady also wasn't pleased with CBS' camera man being in front of him as he trotted out onto the field.
All told, Brady appears to be fine and throwing without much pain, meaning the Jaguars' stingy defense will face their stiffest test of the season if they are to pull off the stunning upset and make it to the Super Bowl.