HOUSTON, Tex. – Just over three miles from TDECU Stadium, there's a building that draws more than 60,000 visitors a year. That number might not seem like a lot, especially considering how many college football venues bring more people than that every home Saturday. Without any sort of signage, there'd be no way of telling exactly what this place was, or how special it really is. This is the Rothko Chapel. Commissioned by John and Dominique de Menil, the building was built in 1971 and features 14 enormous canvases by the painter Mark Rothko.
Inside the chapel, faith is based on individual perspective. And you are left to your own energy, good or bad. To stare inside one of Rothko's paintings is to stare inside yourself at times, and that energy is transferred between the canvas and the self. To have an entire building envisioned by Rothko is to be overcome by that process, as there's a reminder at every viewing angle.
In short, the Rothko Chapel can be anything you want it to be. You can walk out angry or tranquil, tired or refreshed, inspired or forlorn. It's a place in Houston where nothing is decided for you, and your identity escapes your body the second you walk through the doors. It's entirely possible to walk back out again stripped of whatever it was you were before.
This is the same sort of transformation the Houston football team is undergoing under Tom Herman. From the moment he took over for the deposed Tony Levine, he wanted things to be different. And now that he's started his head coaching career at 10-0 following the incredible comeback win over Memphis on Saturday, that potential is actualized. Houston is the last remaining unbeaten in the state of Texas, and is joined by just Clemson, Ohio State, Oklahoma State and Iowa among FBS teams without a loss this late in the season.
The Cougars already had the stadium upgrade it needed to make a statement, as TDECU is the perfect size for right now, and was built with the potential to scale bigger in mind. It offers a breathtaking view of the city skyline through a well-positioned cutout that will remain regardless of how many more seats are eventually added. All it needed was a coach to walk in and see something in himself – and in the team he was coaching – and walk out again with that spark.
This isn't a school lacking in any sort of history. Olympic legend Carl Lewis still roams the halls of the athletic center (and is a coach on the track team). The numbers of Clyde Drexler, Hakeem Olajuwon and Elvin Hayes hang from the rafters of Hofheinz Pavilion. And a giant ode to Heisman Trophy winner Andre Ware is right outside the stadium, along with lots of nods to other Houston greats.
Herman has the pedigree and the experience in Texas to resonate with recruits, from his time at Texas Lutheran, Texas, Sam Houston State, Texas State, and Rice. He has said he wants to "build a wall around Houston" in hopes of keeping all that local talent in-house. He's an offensive adapter who runs a style that not only works, but also gets kids excited. He can flash a Championship ring from the first year of the College Football Playoff. And he learned how to build a program as the offensive coordinator under Urban Meyer.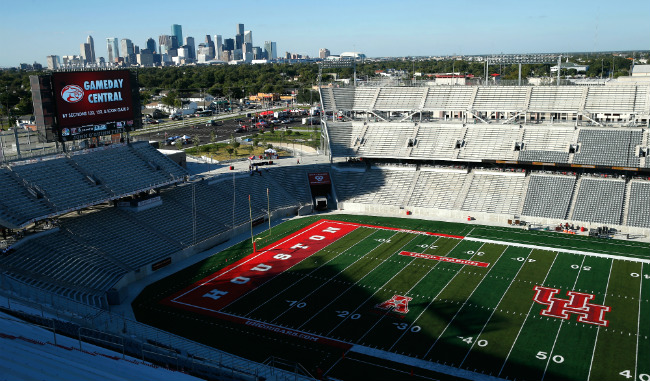 That last point is the one that sticks out the most when you walk through the basement of the Athletics/Alumni Center. There's a small change over previous seasons that epitomizes what Herman is trying to do. While before the walls were bare painted concrete, now there are brightly colored graphics and plaques commemorating former players and bowl appearances. One wall describes "The Houston Man," with attributes like "accountable, "mentally tough," "physically tough," "character," "integrity," and "prepared for life after football." Another wall simply states, "Welcome to H-Town."
Ohio State spent a good deal of energy last season on motivation, but not the type that a lot of other teams do. Lots of programs bring in speakers, or do team-building exercises. Most will develop a rallying cry or a motto for the year. Others will create lists of goals or things that they're striving to become. The Buckeyes took it one step further and simplified the message with things like living "Above the Line" or trusting the "Power of the Unit." One additional message Meyer picked up from Tim Kight – E+R=O (Event+Response=Outcome) – meant even more to the team. Players wore rubber bracelets to remind themselves of that simple fact.
In his recent book Above the Line, Meyer explains the E+R=O formula.
"We don't control the events in life," Meyer writes, "and we don't directly control the outcomes. But we always have control over how we choose to respond. How we respond means everything."
The Cougars fell behind 20-0 to Memphis in the first half on Saturday, and star quarterback Greg Ward Jr. went out with an ankle injury. That was the event.
The response was up to Houston, and backup Kyle Postma, a former Houston walk-on and wide receiver who left the Cougars to go the JuCo track and then transferred back. Postma came in and led an impressive scoring drive, going 4-of-5 for 52 yards and a touchdown to put Houston on the board at the end of the half. After a bit of back and forth, the Tigers still led by 20 early in the fourth quarter.
That's when Postma delivered the outcome. The Cougars scored 21 unanswered to take a 35-34 lead, and after a missed field goal by Jake Elliott from 48 yards out, Houston's perfect season was still alive.
"It was really neat to see the look in our team's eyes of never giving up," Herman said after the game. "They really played for each other. It's also another phrase that gets used around this country probably way too much, but in our locker room, we have a bunch of guys that love each other. It's impossible to give up when things are getting kind of rough and looking kind of bleak. When you're doing it for yourself, it's easy; you just move on to the next thing, but when you're doing it for somebody you love and you know they love you back, it's impossible to give up."
There's a story Meyer tells in his book about Herman's interview to become Ohio State's offensive coordinator. Meyer gave Herman the team's playbook and told him to study it for an hour, and Meyer asked Herman to teach it to him after that hour. It was a way of keeping Herman on his toes, but when Meyer returned, Herman had the playbook basically memorized.
In his three seasons with the Buckeyes, Herman basically memorized Meyer's approach to building a team, as well, whether it's incorporating familiar phrases like "next man up," how he approaches recruiting, or the team's culture in general. And Houston is undefeated in the middle of November as a result.
Herman envisioned an H-Town Takeover when he took over the program. Following a sellout crowd witnessing that miraculous win over Memphis, it's no wonder it's starting to spread.