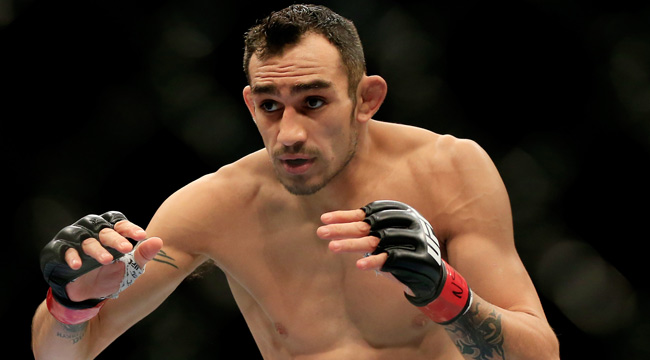 Tony Ferguson vs. Khabib Nurmagomedov has been called off once again, the fourth time the UFC has had to cancel this particular match up over the past three years. The fight, which was set to be the main event at April 7th's UFC 223 in Brooklyn, New York, won't be happening this time due to a freak knee injury suffered by Tony Ferguson.
"He actually tore [his LCL] off the bone," Dana White told ESPN. "He's gonna need surgery on his knee."
The UFC has already moved to replace Ferguson with featherweight champion Max Holloway, who will fight Khabib Nurmagomedov for the lightweight title currently held by Conor McGregor. Holloway is coming off two consecutive and dominant defenses against Jose Aldo.
https://instagram.com/p/BhC9MXBFsXT/?utm_source=ig_embed
"As soon as these guys step in the ring and throw a punch, it's on for the title," White revealed. "Whoever wins wins the title and we'll see what happens with Conor over the next several months. I know he had expressed some interest in fighting in September."
As interesting as it will be to see Holloway and Nurmagomedov throw down, it's still a bitter pill to lose one of the biggest fights of the year between the two best active lightweights in the organization.