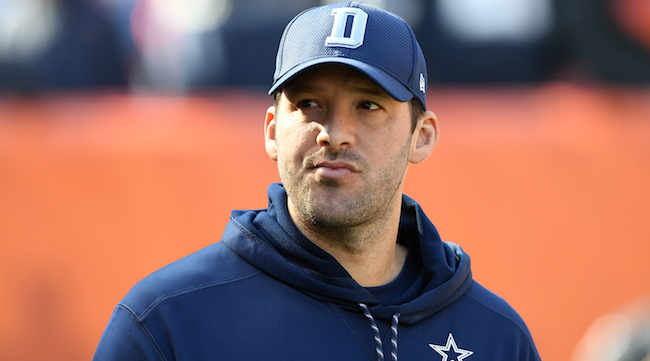 Tony Romo will finally be released by the Dallas Cowboys on Thursday, according to ESPN's Adam Schefter and NFL Network's Ian Rapaport and Jane Slater.
This news comes as little surprise, considering ever since Dak Prescott emerged as the heir apparent for the Cowboys last season after Romo suffered a broken bone in his back, people have been anticipating Dallas looking to move their one-time star quarterback. The Cowboys, unable to find a trade partner for the 36-year-old Romo, will now simply release him and let him hit the free agent market where there will likely be plenty of teams vying for his services.

The two teams that most figure will push the hardest for Romo are the Houston Texans and Denver Broncos. The Broncos, just a year removed from winning the Super Bowl with Peyton Manning, went 9-7 in 2016, falling just shy of the playoffs with Trevor Siemian at the helm. Paxton Lynch may be the future in Denver, but the Broncos feel like there's still a window to win right now with the roster as is and Romo, if he can stay healthy, would give them that chance.
The Texans likewise feel like they have the roster to compete for a championship if they can land a quality quarterback. They took a gamble on Brock Osweiler last year with a four-year, $72 million deal that backfired as he failed to produce at a franchise quarterback level. Houston's defense is full of talent and weapons at receiver like DeAndre Hopkins and Will Fuller aren't being used to their maximum ability with a quarterback rotation of Osweiler and Tom Savage.
Outside of Houston and Denver, there are plenty of other teams in need of quarterback help that could be in the mix, but Romo doesn't seem like he would choose a team like the 49ers, Browns or Jets that are not in a place to contend immediately.
The question for teams in pursuit of the soon-to-be former Cowboys star is how much Romo still has left in the tank physically after starting only four games over the past two seasons for the Cowboys and having multiple back surgeries. In 2014, he was a Pro Bowler, but his fragility has to be a question for inquiring teams. That said, with so few quality quarterback options on the market (especially so now that the Bills have re-signed Tyrod Taylor), for a team that thinks it's a quarterback away from being a true contender, Romo is probably the best bet.

Update: Well, Romo hasn't been released quite yet. Despite the numerous reports that he would be released on Thursday, the Cowboys are now reportedly looking to still gather some value in return for their one-time star quarterback. According to ESPN's Chris Mortensen, Dallas is trying to trade Romo to Houston or Denver rather than give him away as a free agent to one of the two expected landing spots for the veteran.
It makes sense for the Cowboys to try this. Everyone knows the Broncos and Texans would like to bring in Romo to compete immediately and the Cowboys are smart to want value and pitting Houston and Denver against each other in a perceived bidding war is a great way to do that. However, the Broncos aren't in the mood to fall for this and we now have competing reports (this one you can pretty well trace back to Denver) as NFL Network's James Palmer says he's hearing the Broncos aren't trying to trade for him.
Like the Cowboys, you can't blame them for floating this out there. If they think the Cowboys will eventually release him if neither the Texans or Broncos balk at this last gasp attempt, then there's no reason to give up assets for a guy you can sign for no cost outside of his salary. We should have a resolution to all of this soon enough, and if one of these teams fails to land Romo, there's always Jay Cutler to fall back on.