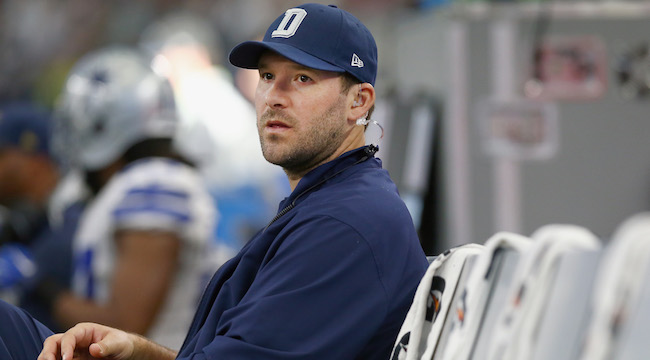 Tony Romo is still a member of the Dallas Cowboys, at least for now. The veteran quarterback was reportedly set to be released earlier this week but, in what appears to be a change of heart, Jerry Jones and company have held on to Romo's contract in a continued effort to land something in return via trade. While the two prime fits for Romo's next stop, the Denver Broncos and Houston Texans, have seemingly balked at sending assets to Dallas, there is no shortage of interest from another profession that Romo could have interest in moving forward.
It has long been speculated that Romo, who is extremely charismatic and likable, could land on TV when he was done playing football and this makes sense as a result. As noted above, FOX has an obvious landing spot with the defection of John Lynch from the TV booth to the front office of the San Francisco 49ers and it is probably safe to assume that outlets like ESPN and NFL Network would come calling if Romo expressed real interest in changing professions.
At this point, it seems like a long-shot that Romo would willingly walk away from football if he had real suitors. In the same breath, the pool of teams that are both interested and suitable when it comes to chasing a Super Bowl appears small and, if Denver and Houston walk away, Romo could be left weighing a myriad of TV offers against some less appealing openings in his first chosen profession. When and if he lands on TV, Romo will almost certainly be dynamic and popular but it remains to be seen just how long that progression will take.